What's Next After VTech's Acquisition of Snom?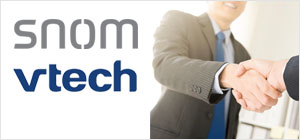 As you have likely heard by now, snom was acquired late last year by VTech, the world's largest manufacturer of cordless handsets and global leader of retail products. The move signals a shift in business focus within VTech to gain market share in the growing and opportunistic VoIP SMB and Enterprise phone market. VTech brings a large and efficient manufacturing presence and global customer service organization while the snom strengths remain high quality craftsmanship, wide interoperability, and VoIP security and software expertise.
VTech has not shown any intention to change the ergonomic and familiar design that has come to be associated with the user-friendly software of snom's IP phones and DECT solutions. The snom Technology brand will continue to offer HD sound quality exceptional productivity features, and the company operations and development will still be hosted in Germany, to ensure unparalleled levels of communication security.
In fact, most if not all of the snom leadership, sales, and marketing personnel are all still hard at work advancing the snom brand, so it's safe to say that it's business as usual. All in all, the companies will coexist and maintain the snom and VTech brands that have so much value to each, respectively in the market place. We have seen small changes and strategy tactics as the lower end snom-branded phones in the 300 series are now rebranded to the VTech product line, however, they maintain the snom styling, software and functionality.
We are happy to announce that as a result of the acquisition, the impressive VTech family of products is now available through ABP Technology. Call us at 972.831.1600 for a quote and showing of the models we have readily available.