Resources for Working Remotely with PBXact
COVID-19 is impacting how so many of us go about our workday. It's no longer 'business as usual'. At Sangoma, we're doing everything we can to support our employees, partners, and customers. From working remotely to travel restrictions, we've taken many internal measures to ensure our employees are safe, yet well-equipped to continue serving you in the same dedicated way we always have. You can read more about those initiatives here. 
We've also received a high number of inquiries about how our Unified Communications (UC) systems can potentially help. As such, we would like to provide some additional information and address any concerns you may have about your business communications. 
Here is an overview of the specific work from home (WFH) capabilities available to PBXact users:
Zulu UC Desktop Softphone
Sangoma's Zulu UC delivers productivity and collaboration tools (chat, SMS, click-to-call, file sharing) through a single application which can be installed locally or used in a browser. Zulu brings all of your tools together in one place, letting you take your work environment with you, wherever you are. Through the Zulu interface on your desktop computer, you can:
• Chat with coworkers 1:1 and in a group setting
• Initiate group conference calling and merge calls together for ad-hoc collaboration
• Create rooms for team collaboration sessions and transfer files
• Send/receive SMS with clients using your work extension (via SIPstation)
• Control presence and view the status of other colleagues
• Open voicemail directly from the visual voicemail feature
• Contact any of your co-workers from the corporate contact integration
Administrators, please be aware that Zulu and VPN clients connecting directly to the PBX use significantly more system resources than a simple SIP registration. Be careful when deploying these solutions at scale on an existing system.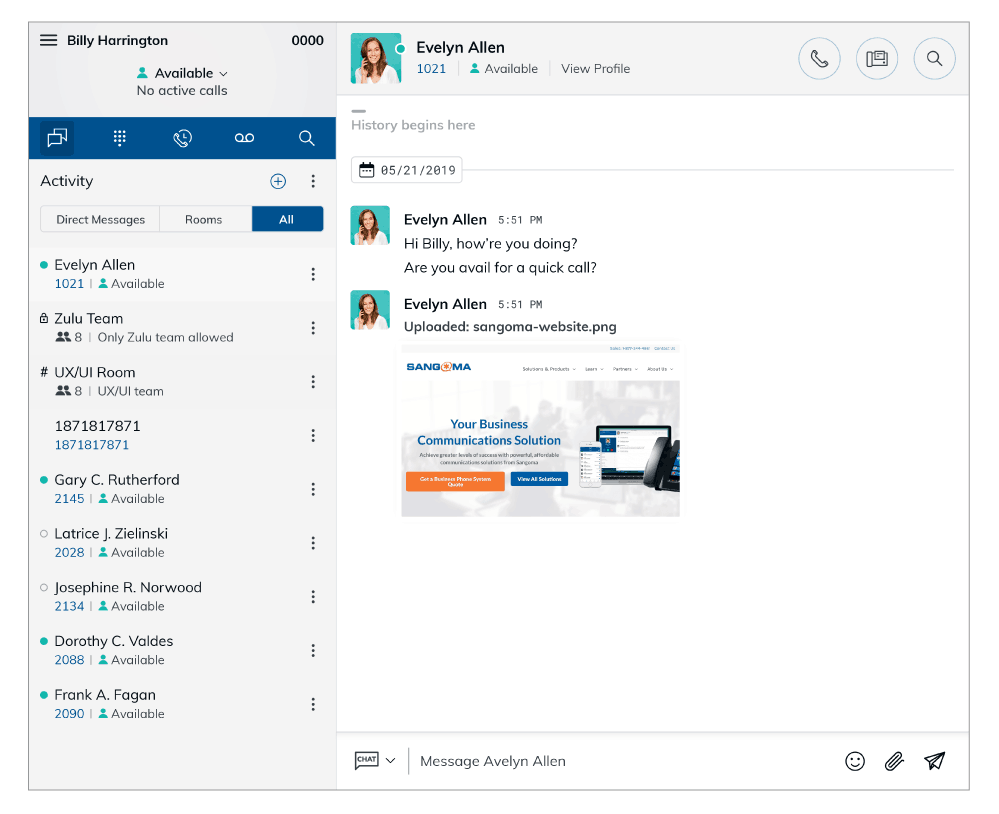 User Control Panel
The User Control Panel (UCP) is a browser-based, customizable dashboard available to every individual user, giving you call control optoins including:
• Call forwarding, presence, conference calling, and more
• Visibility into your colleagues' presence/status, even when you're not in the same location
• The option to redirect numbers to your mobile devices - scheduled or manual 
Use Your Exisiting Desk Phone to Work at Home
If you use a Sangoma desk phone in the office, you can bring your phone home with you. In many cases, when attached to a properly-configured system, you can plug in at home immediately. Please keep in mind that you will likely need a wall plug adapter to power your phone, as most home users do not have Power-over-Ethernet (PoE). Prior to doing this, please work with your system administrator to ensure that your PBXact system is set up to support remote employees. 
Administrator Options for Connecting Remote Workers
System administrators have the following options for connecting remote employees:
Connect to the workplace VPN infrastructure.
With this option, admins can extend the existing VPN infrastructure from the workplace to the home and not rely on the PBX at all to use the PBX resources remotely.
Connect directly to the PBX using your S-Series phone from a remote location.
Sangoma phones natively support connecting a VPN from the phone directly to the PBX. You will need to set up your PBX VPN server first, and then use EndPoint Manager to tell the phone to use the VPN on a per-extension basis. More information on this technique is available here.
Connect directly to the PBX using the built-in VPN server from your desktop.
A desktop VPN connection to PBXact can only be used with the Zulu Desktop Softphone or desktop softphone of your choice. It does not offer access to other company resources. Additional configuration information is available here.
Deploy a second PBX in the Cloud for remote employees and enable a peer trunk to the main workplace system.
Deploy PBXact in a hosted environment for WFH users and bridge the premise PBXact system via IAX2 or Chan_pjsip trunk for minimal exposure to the company network. When a rapid deployment of remote staff is required, this method is arguably the fastest, most cost-effective, and feature rich when direct VPN support just isn't an option.
Allow remote extensions to register directly to the PBX over the Internet.
Administrators should only implement this method provided they are comfortable with the security implications.
Send extension calls to a user's mobile or home phone.
Simply add a personal mobile number to Find Me / Follow Me for an extension. Calls through the PBX can be transferred to other extensions or queues.
Built-in Contact Center Features
PBXact also offers built-in contact center features for users like receptionists or service and support teams who handle a high volume of calls.
• Calls that go to the company IVR can be easily redirected to specific users.
• Businesses can create custom announcements so that callers can hear about valuable information before being connected to an agent.
• Agents can prioritize calls with Caller ID prefixing and VIP caller options.
• In the event of a spike in the number of calls, additional team members can be assigned a 'stand-by' option so they can easily start taking calls.
• The XactView Operator Panel add-on module provides a command center view to control inbound calls, transfer, and more.
• Hot Desking lets employees use their remote Sangoma IP phone as if it was in the office, allowing their individually customized settings to seamlessly transfer to a remote phone.
Sangoma Meet Video Conferencing
Lastly, we are excited to introduce a new video meeting solution: Sangoma Meet! With Sangoma Meet, users can host high-definition video calls with up to 50 participants. Meetings are private and secure, with password protection turned on by default. And, Sangoma Meet is currently being offered, free of charge, to everyone! Click here to learn more or start meeting. 
Source: Sangoma