Brickcom Cameras and Milestone VMS
A Certified Solution to Win in the Surveillance Business

Milestone Systems is the world's leading provider of open platform IP video management software (VMS) and its XProtect VMS is used by more than 100,000 customers worldwide. XProtect is easy to use, yet powerful software that is designed with open architecture. This means that all XProtect products are compatible with more IP cameras, encoders and digital video recorders than any other VMS manufacturer, giving you the freedom to mix and match hardware to fit your needs and budget.
Because XProtect is based on a true open platform, you have the ability to integrate with today's best analytics and business solutions and to expand what is possible with future innovations. Whether your installation is just a few cameras or several thousand, there is an XProtect product to meet your needs. 
Milestone has many benefits, but there are a few that stand out and make this solution an exceptional choice for your surveillance installations.
First, Milestone is an open platform software solution. This allows for a very large and wide set of cameras and other end points to be used with the system. Greater flexibility and customization can be achieved in a solution by choosing cameras that are best suited for the applications and situation in which they are installed, without the restraints limiting you to one or two brands. Milestone has certified and integrated over 100 camera brands and over 1000 different models. That is truly an open platform!
Second, Milestone is a highly scalable solution ranging from a small installs with 1 to 5 cameras all the way up to global installations with multiple sites and unlimited recording servers and cameras and all points in between. Milestone even has a plan for the migration from smaller to larger solutions within their pricing structure, assuring that you are not penalized when a project expands.
Lastly, Milestone software allows for custom integration to other related systems like access control, building automation and others. Milestone's open platform has the tools to help you create a perfect solution for your customer using a simple "Application Programming Interface" (API) or even the more advanced "Software Development Kit" (SDK).
Brickcom cameras are all certified and natively integrated into the Milestone platform. This assures the full capabilities of the cameras are available in a solution marrying Brickcom and Milestone together. Here are some additional reasons we think Brickcom should be a camera brand of choice in your next surveillance solution.
Brickcom cameras provide excellent quality and features for the cost of the units. Brickcom unit costs are in the middle tier of the surveillance space relative to other brands, while the quality of the product is high and the features rival cameras in the upper tier of the IP camera space. Overall, you get a lot of camera for a fair price with excellent features and backside software. Features like Smart Focus lenses, embedded IR, 2 way audio, and others are available across most of their line.
The second reason Brickcom should be a product line that you consider is that Brickcom cameras were born from a parent company with 20 years of research and development in the IP Networking product and wireless broadband product business. Brickcom cameras, therefor, are market leaders in that they offer multiple options for connectivity. In addition to traditional Cat5/6 cable connectivity, some Brickcom cameras have embedded WiFi connections, and not just the 2.4Ghz band but also the 5Ghz band as well. Lastly, there are Brickcom camera models with 3G/4G connection options as well. These connectivity options are valuable in projects where there are remote cameras or areas that are traditionally expensive or time consuming to cable.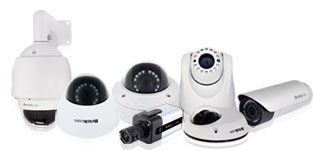 Finally, not all surveillance projects are the same and having a robust line of cameras with different form factors can be important. Form factors including Mini Box, Domes, Mini Domes, Vandal Domes, PTZ units, and others are all available from Brickcom. In addition to the many form factors, Brickcom offers three or more resolutions on each of the different models; there are 1 or 1.3MP, 3MP, and 5MP options on most of the units. All of this allows you to customize the camera to the customer needs and financial restraints of any given project.
All of these points add up to Brickcom creating feature rich cameras with excellent value and the ability to customize a solution that can absolutely satisfy your end customer.
The Brickcom and Milestone combination creates one of the most professional, complete and robust surveillance solutions seen in the market today.