Why Upgrading Core LAN/WAN Networks is Important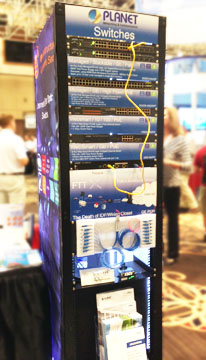 The move toward higher speed core networking architectures began in the 2000s with the announcement of IPv6 and early virtualization efforts. Fast Ethernet core networks were strained even more as higher bandwidth availability increased and prices began to drop. Add to that the increasing adoption of virtualization, SaaS or Cloud Services, and the need for upgraded core network infrastructures of businesses increased in importance.
Fast forward to the core network environment of today's business world. In addition to the reasons listed above, fiber based internet services and ever increasing bandwidth offers from cable and DSL providers are in high demand. Wide adoption of Cloud Services, Data Center usage and virtualization are even higher. Even something as simple as the cost of copper (and copper theft) have a role in pushing network infrastructure forward. Bandwidth intensive projects such as IP Surveillance cameras, storage, and NVR / VMS platforms as well as physical and network security are infrastructure loads that cannot be overlooked. As businesses have augmented their current networks to keep pace with these demands, the number of devices, endpoints, aggregation areas and core network pieces can be staggering, not to mention a nightmare to manage.
Another trend in the core networking space is more and more fiber used in LAN environments, especially in LAN connectivity between the core rack or server room (MDF) to the edge or aggregation points (IDF) within the LAN. These fiber-capable switches are becoming more affordable and come in many different port configurations including units with 10 gigabit uplink ports and extremely high throughput values to handle the increased bandwidth and traffic. PLANET has a very nice selection of MetroE and Carrier class core switch gear to accommodate these needs in your next network build-out or refresh.
GEPON and GPON systems are on the rise as well, utilizing the speed and distribution ability of fiber where we have traditionally use Ethernet. The cost of fiber solutions and the fiber itself have come down while Copper has gotten more expensive. Not to mention the better speed and performance that fiber can offer; these solutions "future proof" your network for years to come while becoming more cost effective to implement and reducing congestion points within the network.
I would encourage IT Professionals, MSPs, and even the smaller Resellers to look at PLANET Technologies for solutions. If you have a hand in assisting your end customers in network gear, management, or consulting services PLANET has the switch line that can be a reasonable option for your customer, all the while holding margins that make you money as well. Please call us to assist in recommending hardware for your next project.