Metropolitan Area Networking with 10Gbps Ultra High Performance Redundant Ring Solution for Cloud Computing

As you have recently seen, we have launched a new line of switches from PLANET. The PLANET line is extensive and robust including basic, web smart, and fully managed products that include POE and High Power POE models as well as Industrial Ethernet form factors. PLANET not only covers your everyday switching needs but can also fulfill the Carrier / Campus / Large Enterprise fiber distribution needs. 
10Gbps Ultra High Speed Switch with Multiple SFP Fiber Ports is Great for All Long-Reach Applications
The MGSW-28240F is specially designed for service providers and campus environments to deliver an profitable Ethernet network. It is equipped with advanced management functions and provides 24 100/1000Mbps dual speed SFP Fiber ports, 4 10Gbps SFP+ Fiber ports, and 4 10/100/1000Mbps TP/SFP combo ports delivered in a rugged strong case. The MGSW-28240F is capable of providing non-blocking switch fabric and wire-speed throughput as high as 128Gbps in the temperature range from -10 to 60 degrees C without any packet loss and CRC error.
Optimized Design for MAN Redundant Ring, Fast Recovery for Surveillance or Industrial System
The MGSW-28240F supports redundant ring technology and features strong rapid self-recovery capability to prevent interruptions and external intrusions. It incorporates ITU-T G.8032 Ethernet Ring Protection Switching technology, and redundant power supply system into customer's industrial automation or surveillance network to enhance system reliability and uptime in harsh factory environments. If the Industrial network is interrupted accidentally, the fault recovery times can be less than 20ms to quickly bring the network back to normal operation.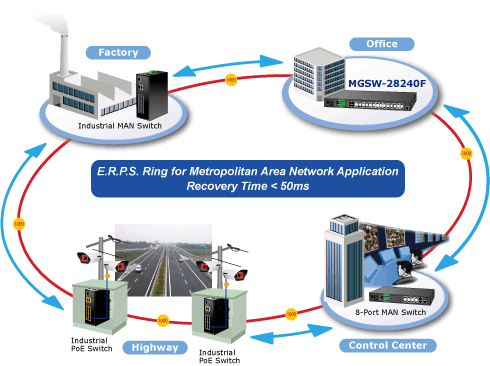 Key Features
•

Supports four 10Gbps SFP+ fiber slots
•

Ethernet ring protection switching (E.R.P.S. Ring)
•

IPv6/IPv4 dual stack management
•

Intelligent SFP digital diagnostic monitor (DDM)
•

36V-72V DC and 100V-240V AC dual redundant power system
•

-10 to 60 degrees C operating temperature

Applications
Excellent Solution to Core/Department Network
The MGSW-28240F is able to connect up to 24 edge switches in the Ethernet environment. Moreover, it also provides 128 Gigabit per second switch fabric and high bandwidth for backbone connection.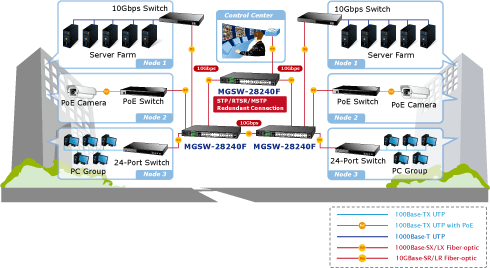 Please consider PLANET switches for your upcoming projects including large Metro Ethernet deployments. Call ABP Tech at 972-831-1600 #3 for assistance in choosing the correct PLANET switch for your needs.