Selling Surveillance Sucessfully by Taking Your Customer Outside of the Box
It was not too long ago when showing customers high resolution and 180 degree or hemispheric 360 was enough to sell a new surveillance system. The customer's mind was mainly - and still is - motivated by what he sees.
If this is all you do - good luck! You will be competing with the entire market offering camera solutions from HD TVI-CCTV to the full plethora of low-priced Chinese IP cameras.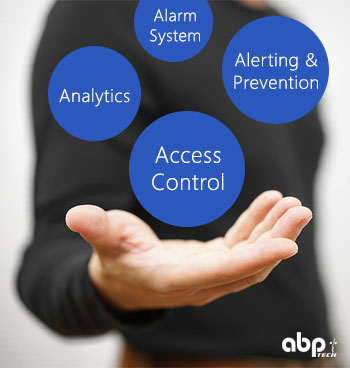 Sell more than just the camera system by creating a bundle of solutions that offers a more complex system. Integrate surveillance with other functionality like the alarm system, access control, paging and more - and you just eliminated 90% of your competitors.
Change the concept from seeing and recording to Intelligent Prevention and Control - MOBOTIX in-camera analytics, audio and I/O control options lend themselves to great solutions. Focus on the expandability of the decentralized system with more analytics and integration.
Discuss secure cloud access and the advantages of remote maintenance on this system that will reduce the cost of future support and provide a much better support experience. Remote monitoring and remote management capabilities of MxMSP the managed services platform for Mobotix lends itself to you offering continued support and new solutions as these arise to your customers.
MxLINQ becomes your own branded App to deliver your customer access to his cameras and to all special functions from the customer's device of choice. With MxLINQ you stay in the mind of your customer and you can sell an ongoing inexpensive recurring product that you can expand on over time.
Discuss the fact that this system is easy to use and they can have access on their phone to even more advanced features like - False Alarm Protected, Patented Activity Sensor, People/Traffic Counting for Ingres-Egress points, Heatmaps of traffic flows in showroom areas, Temperature Alert notifications when cameras reach pre-determined minimums or maximums and much more - all from the palm of their hand.
And lastly, don't forget the AlarmReady™ video verification solution where owners and managers can get notifications on their phone or device of choice within seconds when an Alarm System goes off, Their MxLINQ Cloud App will show them the cameras that have most recent activity so they will already be in the know of what's going on by the time their alarm monitoring company calls.
Remote maintenance always brings up the question of privacy. The MOBOTIX-MxMSP solution offers full encryption and has a privacy setting so customers can decide if and when their reseller partner can manage the system and can or cannot see the video. This function, too, can be easily controlled by the end user via a smartphone at any time.
All of the above - and so much more - comes standard for ABP partners selling MOBOTIX Solutions with MxMSP and MxLINQ! At ABP we are all about empowering our reseller partners. Plan to join us at our next training events and you will not only learn about the technology but we also teach how to sell it.