PLANET Industrial Ethernet
PLANET Industrial Ethernet Solution offers high reliability and security to ensure continuous industrial operation in harsh environments such as factory floors, outdoors, and at extreme temperatures. The Industrial Ethernet upgrades traditional, proprietary factory-floor networks to a low-cost, high-performance, and scalable ethernet architecture. PLANET Industrial Ethernet switches and converters integrated 100/1000 Fiber technology with highly-reliable and long-reaching data transmission. PLANET provides a suitable product portfolio for information level, control level, and device level devices in the Ethernet network.

Reliable, Hardened Design and Protection
The Industrial Ethernet products are designed with rugged high-strength case to keep away from harmful status. The products are specially designed to be  functional a wide temperature range (ex: -40 ~ 75 Degree C) to provide stable performance in the harsh environments. As a result of applying PLANET Industrial Ethernet devices, manufacturers will experience great gains in collaboration, efficiency, and network quality.
Environmentally Friendly PoE Design to Eliminate Cabling Deployment
The PLANET industrial PoE Solution includes switches, converters, extenders, and wireless access points, compliant with standard IEEE 802.3af or IEEE 802.3at and able to transmit data and power simultaneously at the distance up to 100 meters. With power and data over Ethernet from one unit, the Industrial PoE series can reduce cable deployment and eliminates the need for dedicated electrical outlets on the wall, ceiling or any unreachable place. A wire that carries both data and power lowers the installation costs, simplifies the installation effort and eliminates the need for electricians or extension cords.
Reliable Data Redundancy & Fast Recovery to an Industrial Ethernet Network
PLANET Industrial Ethernet Solution incorporates Redundant Ring technology into customers' industrial automation network to enhance system reliability and uptime in the factory harsh environments. It protects your industrial network connectivity from interruptions and outside intrusions with its strong and rapid self-recovery capability and IEEE 802.1w Rapid Spanning Tree Protocol (RSTP) used for implementing fault tolerant ring. The protocol has been optimized to support large ring sizes and fault recovery times in the order of less than 20ms for the network.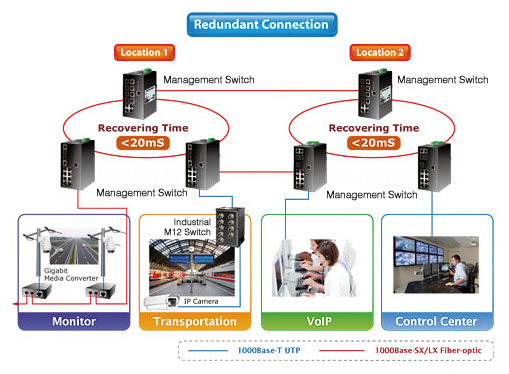 Cost-effective Solution for RS-232 / RS-422 / RS-485 over Industrial Ethernet Application
PLANET Serial over Ethernet Converter is specially designed to convert serial RS-232, RS-422 or RS-485 communication to Industrial Fast Ethernet networking and help to extend the network distance efficiently and inexpensively. PLANET Serial over Ethernet Converter is a time-saving and cost-effective solution for companies to quickly transform their serial equipment to the Ethernet network with no need of replacing the existing serial equipment and or expensive software systems.