ABPTech Announces New Network Switch Product Line
A network switch is a key element in everybody's IT infrastructure. From large enterprises to home offices there is always a switch in charge of the first line interconnection of PC, laptops, IP phones  and other networking devices. 
We noticed that this market segment was becoming too polarized. Other than very expensive carrier class switches most people migrated to buying low quality and low performance commodity offerings and degrading their companies infrastrucure. The SMB switch became such a commodity, that IT employees would just purchase anywhere based on lowest price decision.  As a result of the price competition the market has been flooded with low quality switches and no common management and QC platform that ensures an effective quality operation.
Of course low quality and problems go hand to hand. IT managers have a hard time when the switch starts getting sluggish or too slow due to high data load or even worse if the switch just stops working and reboots itself due to memory overflow or power problems. Many of these problems go unnoticed and become unrecognized symptomps frequently mixed up with QOS or carrier problems. With the adoption of real-time applications and communications such as VoIP or even  IP surveillance even 30 seconds of network contention becomes a problem and is very difficult to diagnose. Most of the time the ISP or router is incorrectly blamed.

We did our homework and have been testing PLANET switches for more than a year, and have been running hundreds of POE and non-POE switch ports in our offices and LAB during that time. We also visited PLANET headquarters in Taiwan a couple times last year. We are now happy to announce our partnership with PLANET and have added PLANET to our product portfolio as recommended and main product line for network switches.

At ABPTech we picked PLANET because they provide industry-leading, reliable and standard-based networking products. PLANET strives at offering a very wide and complete range of switches at superior cost-benefit. We selected PLANET switches to provide our partners with industry-leading, reliable and standard-based ethernet and POE switches and other infrastructure networking products like Fibre to Ethernet media converters.  PLANET strives at offering a complete range of quality switches with innovative features and at superior cost-benefit.
At ABPTECH we recognize that PLANET is not just an electronic product assembler, but in fact are focused on developing new technologies and bringing to market state-of-the-art products.  PLANET's core competence, Network Switches, has evolved over 20 years and now offers a vast array of quality professional Ethernet switches. Most of their staff is in engineering and product design other than manufacturing and assembling. Cutting edge products include 10G switches, Passive Optical Network (PON) and VDSL.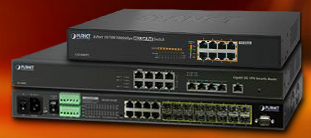 A brand we feel confident our Resellers can adopt and use in all their projects and not have to worry about quality nor high price. PLANET gear is also not a consumer product and differentiates from the rest with well managed channels, solid pricing startegy through world wide partners,  a high product quality, rich feature set and an overall very competitive price point.
Here are some of the advantages that PLANET offers:
Complete range  from 10G Backbone fiber switches to 10/100  edge switches

Layer 3 IPv4/IPv6 routing, Layer 2 and WebSmart managed and stackable switches

Intelligent PoE: Scheduled PoE Power Control, PoE Event / Threshold Alarm

POE: 802.3af and 802.3at 30W high power POE option

Affordable business class networking switches
Please join us in welcoming Planet by buying some units and testing them on your next solution package. We are sure you will enjoy deploying Planet switches as much as we do.
Your ABP Team