PLANET - Green Technology Devices
Industry-leading integration of PoE technology and Solar Power System
To fulfill the increasing demand of network installation in remote area, PLANET has developed an Industrial Solar Power PoE Switch that utilizes a Zero-Carbon emission source - the sun light, and incorporates the high power PoE technology to enable network deployment anywhere without any obstacles of geographical barrier. PLANET Industrial Solar Power PoE Switch provides hassle-free and maintenance-free solution for networks in need of fast connectivity, great flexibility and reliability, such as remote monitoring and long distance wireless communication.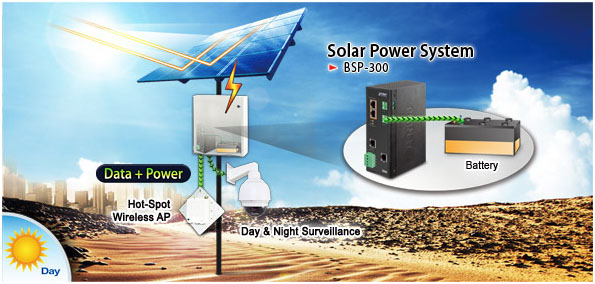 This device does not include the solar panel or battery, only the controller unit. There are complex shipping regulations making it more feasible to source the battery locally by the reseller. As for the solar panel, there are many factors to consider and thus sourcing the panel by the reseller allows for a more customized solution for the end customer.  A data sheet for this exciting network device is available here.  
Additional Green Technology Facts Delivered by PLANET Devices
Green Network
Along with the IP product innovations, PLANET has been striving to provide energy-saving and green design networking and communication equipment to users worldwide. PLANET's innovative solution on Green Networking includes zero-carbon solar power products, Power over Ethernet products, and less power consumed adapter / equipment.
Green Power over Ethernet Solution
PLANET provides complete PoE Solutions covering both commercial and industrial grades offering global customers a total solution of flexible networking devices. 
Green cabling deployment

The PLANET PoE Solution supports IEEE 802.3af / 802.3at PoE to easily expand surveillance or wireless network over existing network structure without extra wires deployment. There is no need of installing additional power cable and thus saves tremendous cabling and power adapter cost and also the bad DC adapter conversion efficiency.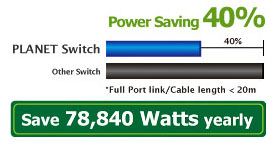 Saving more and more, the tradition Switch system consuming the energy at full power no matter the wiring is short or at long distance. The new PLANET network device utilizing the cable detects capability and automatically detects the cable length and the energy while transmitting. As a result, the whole system will save at least 40% power while using the short cable in the network.
Green Intelligent System

PLANET smart PoE management functions such as auto Temperature Detection to protect the the whole network system and client device from damage or network downtime due to over heated, over-loaded and un-regulated power system,  PoE Power Detection for the working efficiency of IT manager, and auto-detecting of connected devices for efficient network management. Besides increasing the working efficiency, those intelligent functions can extend PLANET product lifecycle more than the same product without intelligent function in market.

Saving the energy, the "PoE schedule" function enables the network administrator to activate or inactivate PoE power feeding for each PoE port automatically during specified time intervals, which is a powerful function to help SMB or Enterprise save power and money.