Next-Generation Switchvox Appliances

Committed to provide businesses with top-of-the-line VoIP phone systems, with enterprise-class features at an affordable price, Digium just announced the new line of high performance Switchvox E-Series appliances, a major updates to its award-winning Switchvox Unified Communications (UC) solution, that includes the release of four high performance appliances. 
Targeting small to medium businesses, Digium's new E-Series Switchvox appliances are built with less operational complexity and better value at an even lower price. The Switchvox E-Series includes the E510, the E520, the E530 and the E540. The all-new E-Series line are equipped with quad-core processors and solid state drives.
Comparing to the older, versions of the Switchvox appliances, the E510 is much lighter (less than 2 lbs) and can easily fit in your backpack, and you can get it for less-than-half the price of the Switchvox 310.  This high performance appliance can support up to 150 phones and 50 concurrent calls. 
The E520, supports up to 300 phones and the E530, and E540 models, are designed for larger support up to 600 phones, with less than 24 lbs weight at a very affordable price. They are powered by Dell EMC hardware and backed by added levels of technical support. These appliance are backed by Next Business Day Service, a guarantee that warranty parts will be dispatched to arrive on-site the next business day and, if necessary, a technician will be dispatched.
Additionally, the models 530 and 540 are equipped with the iDRAC8 (integrated Dell Remote Access Controller 8) Enterprise with Lifecycle Controller at no additional cost, allowing you to monitor, maintain, and update your units easily. And looking for added peace of mind, the E540 appliance is designed for higher levels of redundancy, featuring a mirrored RAID array of solid state drives and dual power supplies.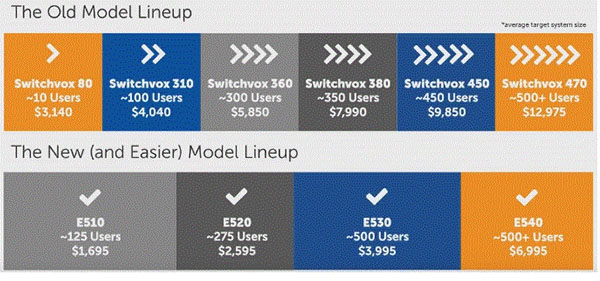 The new E-Series line of appliances, are the most powerful and affordable Switchvox appliances to date, giving small to midsize businesses better options for a VoIP phone system. 
Improvements to the existing all-features-included pricing model of Switchvox make it even easier to quote and for customers to purchase. The restructuring of Digium's support offerings to ensure 24x7 world-class technical support for all new on-premise deployments provides even more value to Switchvox customers. 
All these appliances come with no bundled registration license and pre-installed Switchvox software. Digium also streamlined its pricing structure for Switchvox systems by simplifying user licensing and unbundling the software from the appliance, both greatly reducing the number of SKUs needed in complete solutions. Additionally, Switchvox software is now more affordable with a price reduction and, as always, includes all features for all users at one price. 
With Switchvox, small businesses can enjoy the same benefits as their larger competitors without the need to worry about additional after-hours technical support charges during potentially critical system outages.  
The Digium E-Series appliances are available now.
The ABP Team