New cutting-edge "Stand Alone" Digium Gateways
Digium is finally using its  "know-how" as a the leading supplier of high-performance, and cost effective, digital card interface cards for the Asterisk platform to create their first stand alone digital gateways.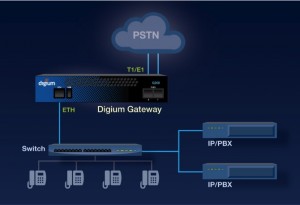 Digium has been offering the building blocks and expertise to build gateways for the last 12 years. It is a natural progression that they are taking this expererience in providing a complete product for customers.
The new Digium Digital gateways are Asterisk based and will feature 1 or 2 Digital T1/E1/PRI TDM to SIP interfaces. They have been built from the ground up and utilize state of the art chip technology, allowing them to have no moving parts. The gateways are rack mountable and feature a simple GUI with an easy Management System developed specially by Digium to configure and management all the gateway options.
Digium gateways will have the option to register with multiple servers simultaneously and include features like: Automatic Call Type Detection for Voice/Modem/Fax, Answer and Disconnect Supervision, Trunk Group Support, Dial Plan Support based on Call Routing Rule and Call Routing Groups, Pass Through Support for calls to toll free, local and emergency services numbers, Automatic appending and stripping of digits to dialed numbers, Caller ID name and number support and Fax and Modem support.
The Gateway series are standards based for SIP and PSTN connectivity, so the appliances will work with any vendor that is also SIP compliance based. There are 2 affordable turn key models available: The G100 Single T1/E1/PRI appliance at $1,195 list and the G200 Dual T1/E1/PRI appliance at $1,995 list price.
The introduction of these devices in the market represents a major opportunity for the entire network of channel partners, resellers, Asterisk developers, integrators and in general, everybody involved on the VoIP market.
We think that the combination of an intuitive user interface, a cutting-edge embedded platform and the flexibility of Asterisk, add up to a paradigm shift in the media gateway market. These gateways are being shipped this week, so hurry up and place your orders.
Learn more about this in ABP's Webinar - Positioning Digium Solutions in an End to End Digium World or if in Dallas come to our Digium Lunch and Learn in April exact details TBD.
The ABP Team