Digium Announces Complete Solution with Switchvox and the New D40, D50 and D70 IP Phones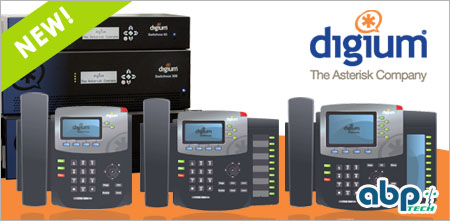 The Digium Switchvox is an ideal solution for a Unified Communications platform for SMB applications. This has been the case for a few years now and ABP has built countless systems around Switchvox with numerous types of phone vendors from snom, Aastra, Polycom, Cisco, Grandstream, Panasonic and more as any SIP device can register to the Asterisk PBX. For all recent versions of firmware until now, only two of these manufacturers were capable of utilizing the auto-configuration features on the system: snom and Polycom. Each VAR or Integrator had their pick of their preferred model of phone but with Digium's latest announcement with the new lineup of IP Phones, the choice is clear.
Digium's new D40, D50 and D70 IP Desk Phones are geared towards utilizing Switchvox (and specifically Asterisk) features and capabilities. The system will be able to find and configure these phones upon deployment saving time and energy on any future installations. One of the biggest concerns end-users had when faced with the decision to purchase an Asterisk system was the connotation that products were pieced together to make a solution as compared to the Avaya/Shortel/Cisco solutions that customers are offered. Now with a competitively priced Unified Communications platform standardized on the Digium Brand for the PBX and endpoints, a whole new breed of Asterisk dealers will emerge to have a true chance to make an impact on the SMB telephony market.
Open source PBX sales make up about 18% of the phone systems installed in the US based off of the latest 2010 report and this is including all types of Asterisk based systems. Those that know how to properly create a fully operational and reliable Asterisk system are very successful but since it is completely open, many others that are not as capable have left their end users with negative impressions on open source or Asterisk when really the system isn't flawed at all. Standardizing on the Digium brand and really targeting new customers with a true Unified Communications platform with an SMB price should be something all Switchvox VARs focus on. Just as there is a fleet of Panasonic, Avaya, Mitel, Toshiba, NEC, Cisco dealers out there, there is a huge amount of Asterisk installers as well but a complete solution wasn't available until now to be seen as a truly competitive product choice for UC applications. ABP sees those IP Solutions Partners of ours that focus on offering a bundled package solely with one brand as one of the bigger opportunities in front of us in 2012 and we hope you do too.
Digium is announcing these devices at this year's IT EXPO East in Miami and ABP is the preferred Distribution Partner for the complete Digium solution with Switchvox and the new IP Phones. The current lineup is the entry level D40, the mid level D50 and the receptionist/executive level D70. The D40 comes with 2 line keys, 4 XML programmable keys and a 240×120 pixel screen. There are navigation buttons as well as dedicated keys to normal call features such as transfer, hold, redial, messaging plus a volume bar located at the bottom of the phone. The D50 has 4 line keys and 4 XML programmable keys and a 240×120 pixel screen as well. This model adds 10 BLF keys with designation strips as well as additional buttons dedicated for conference and intercom functions. Lastly, the D70 Executive level IP Phone comes with 6 line keys, 4 XML programmable buttons, 10×10 BLF keys with LCD display plus an optional sidecar module. It boasts a 320×160 pixel screen and adds on new buttons for Do Not Distrub, Applications, directory and menu. All 3 models of phones come with Backlit Displays and they all support HD Voice. The combination of these 3 Digium IP Phones on Switchvox creates a powerful selling solution to meet the needs of any size potential customer.
In the new firmware of Switchvox, there is a menu option when creating new extensions specifically for Digium IP Phones. During the training session at ABP, Digium showed how quick and easy it was to do the first time configuration of  new these new devices and to tie them to a specific user or extension. The Switchvox system was already one of the most powerful IP Phone Systems on the market for SMB customers but now ABP and Digium are certifying VARs and Integrators to become true Digium Dealers. We are currently implementing online training for our customers to help get anyone interested up to speed to hopefully become a Digium Select Partner one day. Please contact sales@abptech.com with any inquiries on pricing or building solutions with Switchvox and these Great new IP Phones from Digium.
(Please click below image to enlarge)