Microsens Considering to Upgrade to Fibre?
Historically the cabling life expectancy is 16 years, compared to 4 years for PC's and networking hardware, so the cabling system must outlive at least four generations of networking equipment upgrades.
Copper continues to evolve to cope with increased demands, but each successive advance results in higher performances but bulkier cables with are more complex to install than its predecessor. Maximum distances supported, even for the latest incarnation Cat 7, is still limited to just 100m.
LANs have traditionally used fiber primarily in the backbone to overcome the distance and bandwidth limitations of copper cable. Most large corporate LANs use fiber backbones with copper cable to the office. Now more than ever taking Fiber To The Office (FTTO) is a cost effective alternative.
FTTO provides the ideal basis for the increasing bandwidth needs of modern buildings. All modern IT based information systems are heavily relying on a resilient network infrastructure. In addition, new demands like IP based systems are steadily increasing and growing data volumes have to be handled by the network infrastructure. Through the use of extended fiber optic cabling, the FTTO solution ensures enhanced life cycle, maximum performance and an excellent cost-per-bit ratio.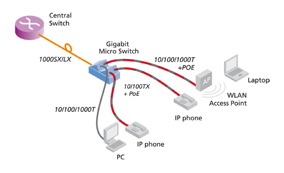 Micro-Switches
Future-oriented cabling concepts are primarily characterized by their flexibility. With the 45 x 45 equipment design MICROSENS offers the most compact solutions of active network components on the market.
The new generation now supports complete gigabit performance on all connections. The central switch is connected via an integrated 1000Base X fiber optic connection.
The complete Power-over-Ethernet (PoE) functionality has been designed in accordance with IEEE Std. 802.3af and is supported of all four RJ-45 ports (10/100/1000Base-T). Intelligent power management monitors the current power consumption of the end devices connected.
The switch is generally equipped with integrated network management and supports all management standards from Telnet to SNMP and web browser. Furthermore, the switch has at its disposal features for data prioritization, VLANs and authentication in accordance with IEEE Std. 802.1X.
If you need further information or advice please contact us on www.abptech.com or call us on 972-831-1600