Manage a large multisite PBX network
Larger multisite phone system deployments are a challenge both during initial setup and future management. ABP has researched several solutions for systems to enable larger rollouts and we like Epygi's QCC solution for a large federated network of small IP PBXs. Ideal for retail or multi branch office rollout.
One of the unique strengths provided on Epgyi's family of IP PBX solutions is the Quadro's exceptionally strong routing tables enabling a seamless 4 or 5 digit call routing dial plan and robust automatic network fail over options for large multi-location enterprise customers with many offices across the country or around the world. That coupled with QCC and Epygi's affordable price makes for a very attractive solution for large multi-site systems.
Quadro Network Diagram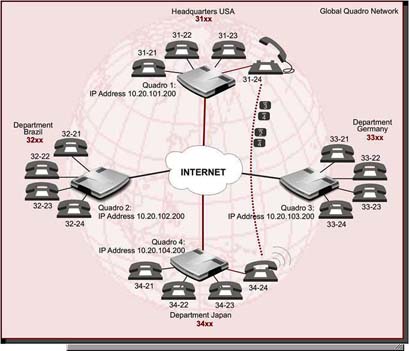 The issue with a multi-system deployment is how to effectivly manage and support a large network of individual IP PBX platforms. Epygi has solved this problem by providing a tool to easily manage a large network of Quadros from a single desktop PC.
The Quadro Configuration Console (QCC) is a free utility specifically designed to accomplish this task. Below are the main features provided by Quadro Configuration Console:
- Automatic login to Quadro Web management
Allows the administrator to automatically log into the web management of Quadros
- Reboot
Allows the administrator to reboot Quadros from the QCC
- Configuration Backup
Allows the configurations of selected Quadros to be backed up and downloaded.
- Configuration Restore
Allows a backup configuration file to be uploaded to and restored on Quadros
- Manage Firmware Update
Allows selected firmware to be uploaded to and installed on Quadros
- Legible Configuration File Upload
Allows selected legible configuration files to be sequentially uploaded to Quadros
- View the statuses of all Quadros on the network in a single window
The QCC displays the state of the connection with a Quadro: Available Unavailable
Easily notice a change in the connection state and take steps to fix the problem.
- Group up identical Quadro models together and handle the group as single a unit
Below you can view the main management screen. From this display the administrator can view and manage an entire network of Epygi Quadro IP PBXs, Conference Servers, FXO Gateways, T1E1 Gateways, and Quadro 6L Key systems.
QCC Management Screen.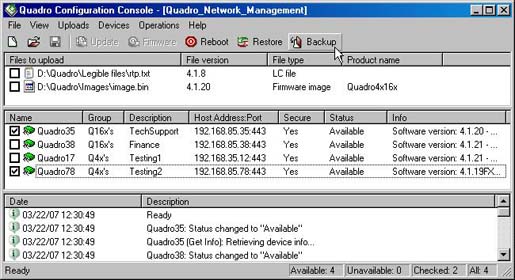 Download the QCC software free here now
Please check out our training page for upcoming Epygi training classes. These classes were specifically designed to quickly get you proposing and deploying next generation VoIP solutions for your customer.
Give our sales team a call at 972-831-1600 and press 3 for sales. We are happy to discuss your opportunities, help you design your solution, and answer any questions you may have.
ABP has a nationwide specialized reseller network that can provide support coverage in many areas of the nation and help extend the reach of individul resellers for larger projects.
The ABP Team