Kentix SmartXcan - Fever Screening Reinvented
Are you prepared for the new normal? How do you protect your most important assets - your employees and clients? What's your strategy to minimize the risk of infections in areas for which you are responsible?
Every crisis has forced us to rethink how we do things in a our every-day routine, what to change or how to protect us. In fact, it is very common that we are blessed with new inventions to help master the new challenges we have been faced with. It is our pleasure to help introduce such an innovation, today: the new Kentix SmartXcan.
The new Kentix SmartXcan is a reliable, self-explaining and secure device with the capability of scanning up to 700 people per hour. What the LIVE Test below and see how easy it is to use:
Many might say it does the same thing as a thermal camera, but that's not true. The SmartXcan is the only device on the market today, which has been designed as a solution to our most pressing problem - how to help identify infected individuals.  It offers a self-guided and controlled process which cannot be tricked by simple actions such as holidng a hand over it. Here's a comparison between other methods currently used in our society:
 The Kentix SmartXcan can be implemented in 4 different ways:
1st level: voluntary test by a person entering. For example, there could be a kind of request not to enter if fever detected and posted with the offer to scan using this quick and safe test. This level would be a good fit for any organization or business which has a lot of customers and isn't able to control access completely.
2nd level: the SmartXcan is integrated into the access control system. Here, the actual access panel could be set up to only accept entries or fob scans if the temperature has been cleared by the SmartXcan. Thanks to its open architecture, the sensor can be integrated easily into many systems using dry contacts or IP notifications. 
 
3rd level: the building has a monitored entrance, either by guards or a reception where a person can monitor the results of the scan. If the test is negative, appropriate steps can be taken. For example, hospitals can do a pre-examination and assign priority to people with the highest temperatures. 
4th level: due to the fact that no personal data is stored whatsoever, all data collected is 100% anonymous and GDPR compliant. This allows for hotspot analysis for larger regions, countries or even globally - helping health officials with their response strategies.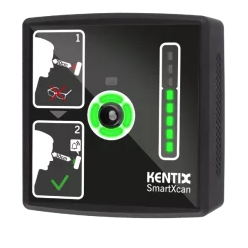 Simple User Guide
A really simple use of the device was an important goal during development. No operating personnel is necessary for the use. Focus measuring point - approach head - measurement. This is done intuitively, the measurement is confirmed optically and acoustically within only 0.6 seconds. The whole process of approaching the SmartXcan, measuring and stepping away takes about 3-5 seconds. The LED bar shows the result directly with GREEN or RED. Depending on the setting, the LED bar also display three temperature ranges, such as elevated temperature, fever or high fever.
Precise measuring process thanks to Smart Technology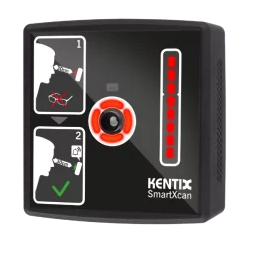 1024 sensors measure the temperature at many points of the eyes and forehead. Due to the defined and always the same process, we achieve a much more reproducible measurement than comparable methods. Additional deep-learning algorithms are used to continuously teach the thermal image and optimize the measurement process. Disturbing influences can thus be faded out as far as possible. With more than 1,000 measured values, the result is a reliable statement of body temperature.
Start offering the Kentix SmartXcan to your clients and help them keep their most important assets safe!
Contact us at ABP today and register as a new Kentix partner for your area. We provide you with your Kentix certification training, reliable support and quick delivery. 
Above that, our own IPTechView remote management platform allows you to monitor and manage your Kentix solutions in a safe and secure environment. 
We're looking forward to working with you!