Fanvil's New IP Phones Feature Elegant and Cutting Edge X7 Touch Screen and High-End X210
Fanvil has two great new products that offer the latest in IP phone technology and complement any office decor. The X7 Enterprise Color IP Phone and its 7-inch touch screen offers a modern, high-end design for business users who need immediate access to all important information. The X210 is a high-end enterprise IP phone for users that handle medium-to-high call volumes and need access to both flexible and advanced features.
Fanvil X7 Enterprise Color IP Phone
The Fanvil X7 IP Phone is a high-end enterprise phone with an intelligent DSS key corresponding display screen that greatly improves the working efficiency of a business . There are a total of 127 DSS keys on this model that has an advanced design and high-cost performance yet affordable price.
The X7 can be used as a mini PBX, to DIY a small communication and security solution. Connect Fanvil devices (such as a VoIP phone, SIP door phone, or SIP speaker) to an X7 IP phone by network connections, forming a small DIY system through hotspot function of the X7 with no need to buy a PBX. The DIY solution is a perfect selection for a small office, small parking lot, etc.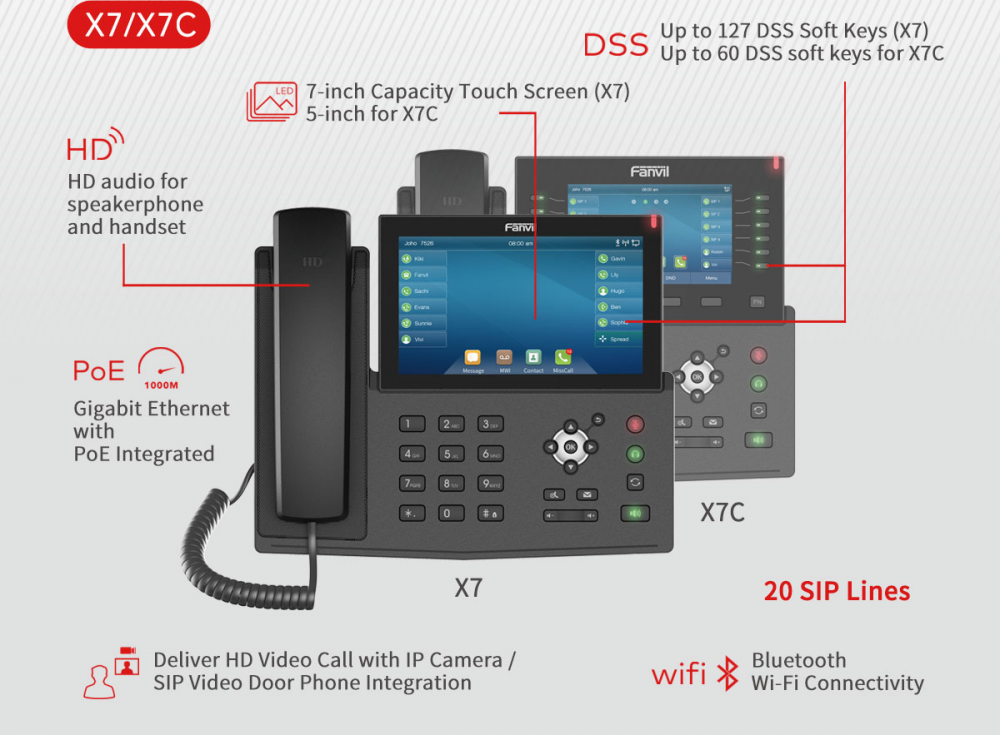 Fanvil X210 Enterprise IP Phone
The Fanvil X210 Enterprise IP Phone is an elegant enterprise phone for the executive user. The X210 features 2 side color displays both in vibrant color providing the most work efficiency. This high-level phone also features Gigabit Ethernet with PoE support, as well as support for EHS, built-in Bluetooth, and Wi-Fi (through a separate dongle).
The X210 is the perfect IP Phone for a business that can benefit from having extra DSS keys for dynamic management. The 2 integrated color displays on the X210 each has 3 page-buttons at the bottom for page switching and users can set up to 96 DSS keys for BLF and speed dial functions. In addition, the main display has 10 DSS keys (for a total of 106 DSS keys available in total).