Upgrade Fanvil X6/X5S With the Latest Firmware Version
Fanvil is a leading IP Voice and Video End Point manufacturer and one of the most sought-after brands in the IP phone space. Fanvil has created a broad lineup of VoIP phones with edge voice quality tested for clear voice, high dynamic range and faithful sound tonality, as well as a rich feature set including new innovative functions. Fanvil produces high-quality, cost effective VoIP phones for a variety of users ranging from small business up to the enterprise level and for applications like businesses, hotels, headsets and door phones.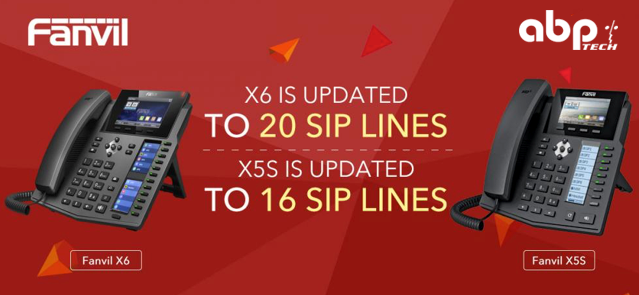 Fanvil has recently increased the capacity of their X6 and X5 models with a simple software upgrade.
Fanvil X6S
The X6S is a 4.3 inch color screen with a smart and friendly User Interface which features Fanvil's Optima HD Voice technology and a wide band codec of Opus for unparalleled audio clarity.
This model also supports a video decoder which means it can be used together with video intercoms and IP cameras. The X6S is built with Gigabit Ethernet technology for rapid call handling, plus, with an all-new USB port, the X6S boasts unparalleled functionality and expansibility with Bluetooth USB recording features.
It's All-in-One = SIP Phone + Extension Module as it features 12 DSS keys with scroll up and down on the LCD display to provide dynamic DSS/BLF functions up to five pages achieving a total of 60 keys.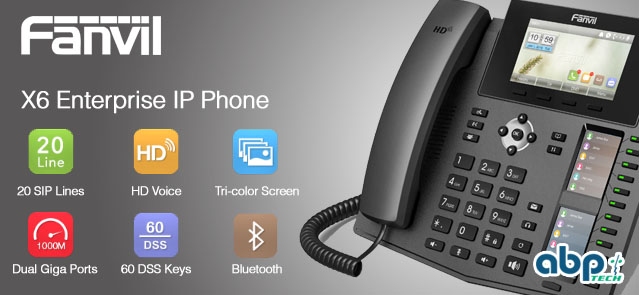 Fanvil X5S
The X5S IP phone is a dynamic business communications tool for superior voice communications and extended DSS screen functionality. The X5S is a 6-line IP phone with a 3.5 inch large color screen. The X5S is also built with Gigabit Ethernet technology and the USB port.
Why Choose Fanvil phones?
> Cost efficient, excellent quality and new innovative concept with all-in-one multi-screen phones and a lot of BLF keys.
> A complete product line of desk phones, intercom/door phones, hotel phones, etc.
> Color-screen and Gigabit port from entry-level to high-level phones to serve SMBs and Enterprises.
> RPS service and Provisioning tool.
> EHS Support, Bluetooth and 5.8Ghz WIFi Support for some models.
> Hotspot function to use a phone as a server to share the same extension.
> Unique Fanvil approach to integrating with Exchange and Google makes them one of the most advanced and unique IP phone choices in the market.
> As a unique feature, Fanvil phones present users their fully synchronized calendars.
> Certified with major telephony systems such as 3CX, Bicom, Asterisk, Avaya, Broadsoft, Epygi and Xorcom.