DECT vs. WiFi? Achieve True Mobility with Unidata
Why WiFi Phones are becoming more and more popular.
No Wires. No Ports. No Installation.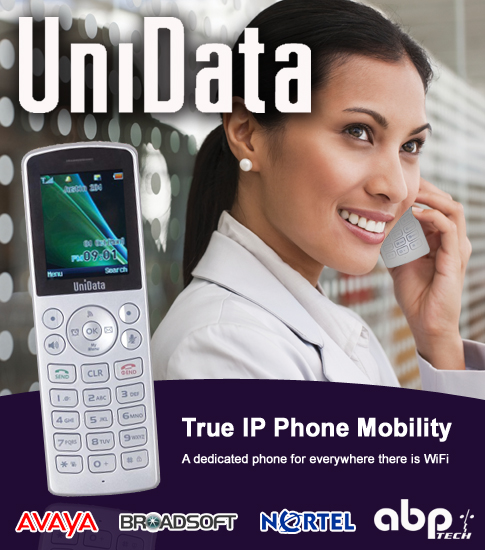 When working with IP Telephony, the concept of a "wireless" device can mean different things to different people. This could mean a DECT phone, a WiFi phone or even a desktop IP Phone that is connected wirelessly via one of these methods. In the past, DECT technology had proven to be the market leader for mobile VoIP solutions. Although there are some benefits to this standard, you must stay in a specific coverage area of the base station so, how mobile is it?



WiFi phones had a boom several years ago but the devices available weren't mature enough to be price competitive for your everyday customer. Now, there are some well known high-end WiFi phones but their name brand comes at a premium. The Unidata 7800 IP Phone from ABP Technology is a very cost competitive WiFi phone that has enterprise features and capabilities. The device boasts many features such as: long battery life, remembers multiple SSID's, LCD Display, speakerphone, PC sync and several auto-provisioning methods. Customers that I've spoken to that were previously using Cisco or Polycom WiFi Phones (as those were the only top performers available before) have praised the Unidata's quality after testing it. Compare the pricing between the Cisco/Polycoms and the 7800 and you will definitely see why this product is causing such a commotion. ITSP's have flocked to the Unidata since end-users understand how to log on devices to their wireless network. This is why the 7800 is true mobility as you can take it from the office to the home, hotel, coffee shop and across the globe. We have tested the 7800 on every major platform and IP-PBX and the performance can not be matched by any product with a similar price. I feel that WiFi products in general are booming and that WiFi iP Phones will make a strong surge throughout the rest of this year. They are truly mobile and have carved out a variety of vertical markets where they are useful. Ideal candidates for this product are hotels/hospitality, retail stores, warehouses, airports, car dealerships, academic campuses and any environment where WiFi is readily available. This leaves the VAR with almost unlimited options. Unidata Products are distributed exclusively from ABP Technology www.abptech.com