Challenged by the problem of running VoIP over your LAN?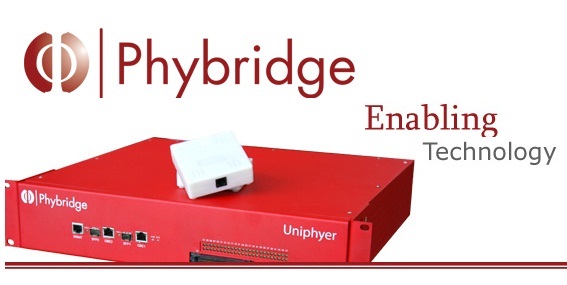 Are you hesitating to migrate to IP phones because: You just installed a new IP PBX? You have a LAN already, and you're worried about upgrading it? Installation of IP PBX and IP Phones will disrupt your time and work routine? 05-30-2010
Disclaimer: In July of 2015, Phybridge Inc. acquired Network Video Technologies, which now operates under the name NVT Phybridge. Visit www.nvtphybridge.com for more information. Additionally, in 2016 NVT Phybridge announced the end-of-sale and end-of-life of the UniPhyer switch. Please visit https://www.nvtphybridge.com/eol/ for more information.
Phybridge's unique VoIP enabler allows an effortless and cost-effective migration to IP phones. The Phybridge UniPhyer, VoIP enabler, leverages your existing telephone cabling infrastructure to provide a dedicated IP phone network, while centrally connecting the IP PBX to your existing LAN. It gives you the reliability of a legacy voice network with the productivity gains and convenience of a converged network.
The Phybridge UniPhyer uses existing telephony cabling to provide a complete IP network for voice and data, which allows you to centrally converge with the LAN. The Phybridge UniPhyer also provides a dedicated path for voice, QoS and POE to every desktop.
And if you're looking to transition to IP telephony it's something you might want to check into, especially if you want to have reliable phone systems based on "robust and resilient legacy PBX. The UniPhyer not only makes it possible for businesses to gracefully migrate to VoIP and network convergence quickly, easily and at a fraction of the cost of traditional deployment, but it also eliminates the challenges and barriers for partners and customers.



Easy steps for installing Phybridge UniPhyer
Step 1: Mount the UniPhyer unit in desired location. Plug in the power cord to an AC outlet and turn on the power switch.
Step 2: Connect the phone cables to the RJ21 connector marked "Line Interface".
Step 3: Connect the Ethernet cable from the LAN to the Ethernet port marked "GBE1".
Step 4: Connect the telephone cable from wall jack to jack on the PhyAdapter marked as "To Phone Jack".
Step 5: Connect the Ethernet cable from an IP Phone to the Jack on the PhyAdapter marked as "To IP Phone".
The ABP Team