3CX Q1 News and Updates - with Information on the New Service Pack Release for V15.5
News on the next Service Pack Release for 3CX V15.5
Service pack 3 for 3CX v15.5 is available. One of the main highlights of SP3 is the improved conference setup & scheduling options. But several other additions have been added to the SP3 Alpha, Beta and Final release. 
These updates include:
IPV6 support (dual stack only). .NET Core 2.0,
.NET Standard 2.0 and Windows Net framework 4.6.1.
3CX now ships with SSL/TLS enabled by default.
Web client Conference setup improvements.
Internal participants can now be called automatically when a conference starts
WebMeeting participant capacity has been increased in all Editions (STD = 25, PRO = 100, ENT = 250).
3CX has reintroduced support for Grandstream phones. BETA support is available for GXP16XX, GXP17XX and GXP21XX series phones.
Zoho is now a supported CRM.
Much easier to add your own CRM integration if it is not natively supported by 3CX.
3CX Announces New Partner Program for 2018
New pricing will go into effect on March 1st. You can see Annual License pricing here.
* Please note the Free "PBX Edition" has been discontinued and is now offering free 16sc STD installations. All current PBX Editions licenses have now been converted to 16sc STD Annual licenses.
* The STD Edition now requires the 3CX free FQDN and SMPTP to be used….if you have or want to use your own FQDN and/or SMTP server, you will need to purchase the PRO or ENT Editions.
New partner levels and requirements: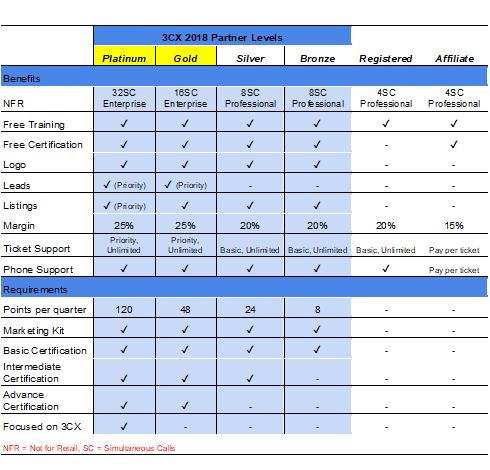 3CX licenses now have updated point-values, and maintenance renewals now count towards quarterly point totals: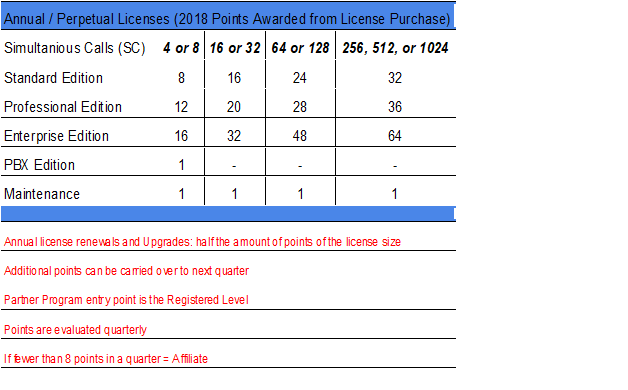 Contact your ABP Rep @ 972.831.1600 x3 or sales@abptech.com for more information or quotes on your partner discounted pricing.