UC for Hotels, MTU/MDU or Campus Environments with Analog Phones (Part II)
In PART I of this article we addressed the motivation question: Why would an organization switch to IP Telephony when it owns a plethora of bought-and-paid-for analog phones—and a traditional PBX—that all work just fine?

This post is Part II in a series about IP-enabling analog handsets in high-density telephony environments. Part I addressed the benefits of making the transition from a traditional analog PBX to IP telephony and SIP trunking based on an IP PBX or a hosted/cloud PBX. >>Read it here…
Now, we will tackle the second question posed in that article: How can you take advantage of the cost savings and increased productivity the IP revolution offers, without ripping out and replacing all your analog handsets?
The solution is simple: use a VoIP gateway!
For large-scale phone systems, a high-density gateway is required. A VoIP gateway provides FXS ports for connecting to the analog handsets. The gateway converts each local analog phone circuit into a SIP data stream (VoIP call). The VoIP calls can be routed from the gateway's Ethernet port to a local IP-PBX, or a hosted PBX and delivered over a SIP trunk to the internet telephony service provider (ITSP).
NOTE: The underlying technology for internet telephony is the session initiation protocol (SIP), so the trunking service is known as a SIP trunk.
However, if the number of phone lines is large, not just any VoIP gateway will suffice.

When it comes to high-density (lots of phone lines) analog VoIP gateways, customers are usually stuck with either stacking multiple boxes or buying expensive units with way more ports than they actually need.
So, Patton has developed the industry's most flexible high-density VoIP gateway: the new SmartNode SN4740 High-Density Analog Gateway Series.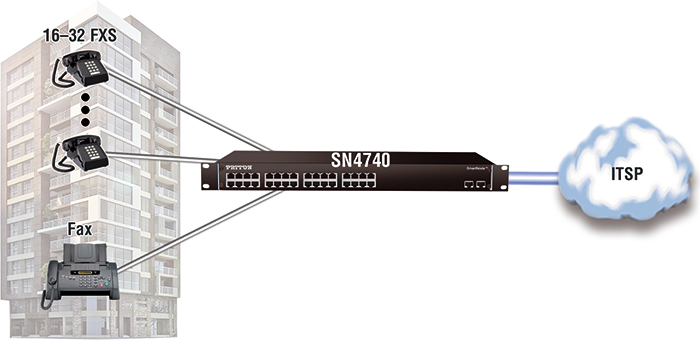 SN4740 in an apartment building phone system
Covering analog port densities of 16, 24, 32, 48, 72, 96 and 128, these units can connect analog telephones to SIP-based communication systems for just about any application.
Popular with hotels, resorts, campus, and sprawling industrial facilities, the new SN4740 Series is just what the market needed.
And that's not all: the analog interfaces have advanced surge protection and support long-hauls, enabling connectivity to analog devices that are even miles away.
Another key feature is essential for the hospitality industry, yet many gateways do not provide it:
SN4740 FXS gateways support the call-waiting indication light on analog handsets.
Quoting Marc Aeberhard again: "The SN4740 goes the extra mile. The units can immediately provide dial-tone for lots of phones installed in hotels, apartments, military bases, parking lots, automotive, railway, or mining tunnels, or campus environments—reaching handsets installed more than 6 miles away."
Learn more about the benefits of the SmartNode SN4740 High-Density Analog Gateway… 
ON-DEMAND WEBINAR
Intro to SN4740 High-Density FXS VoIP Gateway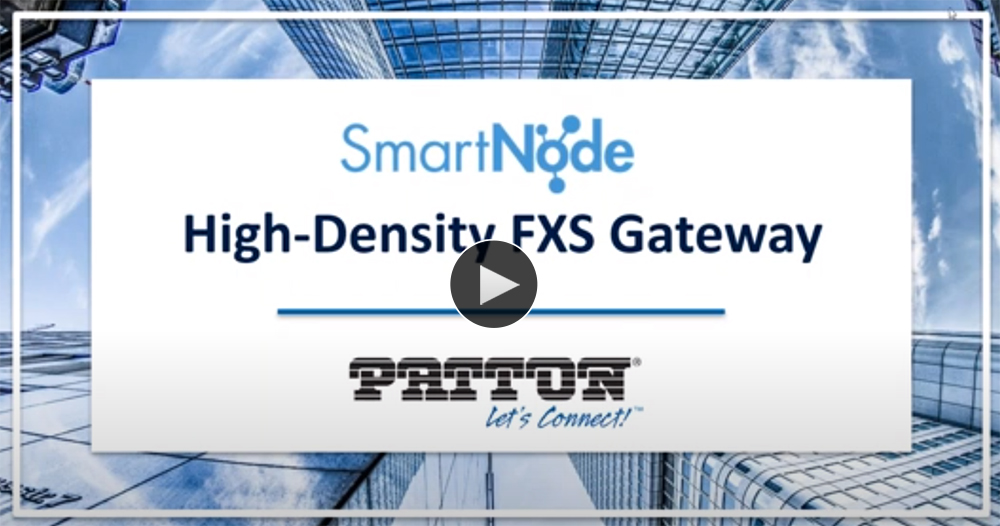 What do you think?
How many analog headsets does your current phone system support?

Are you ready to transition your analog phone system to advanced SIP telephony?
Source: Patton - W. Glendon Flowers