Testing High-Performance Wi-Fi Antenna on Roof of ABP Office
Altai8 is one of the few new smart antennas that enables Wi-Fi to become much more ubiquitous and truly helps reduce cost since there is a significant reduction in access points and it eliminates the latency and hop problems of meshed systems. In short it is less expensive and a better solution specially for people that want to run Voice over Wi-Fi.
To be able to demonstrate the Altai8 High Performance Wi-fi Antenna for the MuniWireless Expo in Dallas, with the Altai team we mounted a unit on ABP's roof and did a survey on how far the antena would allow us to use embedded Wi-Fi devices like the Hitachi-Cable Wireless IP5000 and IP3000 phones and various Laptops.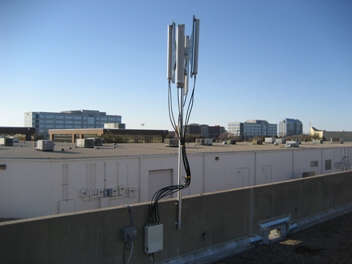 The project was mainly designed for us to test and prove that the Altai 8 would be able to operate with embedded devices as far as 1650 feet (500m) from our office. This is about 3 X as far as most other devices. So when the requirement is covering a large area, Altai will canvass large outdoor spaces with 802.11 b/g with 4-7 times less access points than competitors.
The setup was rather simple and only requires to bring an Ethernet cable and 110V power to the roof. One of the keys to the Altai8 is the tremendous sensitivity of the antena, the fact that the Radio is next to the antenna as opposed to inside the building as many other Cell Base type systems also makes a huge difference.
Altai's developers came from a background of deep space reception to receive signals from transmissions like signals from the Mars rover. The experience of developing this type of equipment has helped Altai create a unique signal processing system that can process high numbers of concurrent session on all 4 802.11b/g radios and communicate with remote low power embeded devices better than other systems.
In line of sight we actually operated devices up to 2000' away from the base. We did notice areas that had shadows due to buildings structures and trees so as always in RF things are not an exact science. Setting up of such a system will require training and is best done by specialty resellers that have RF experience. (See site MAP)
More on Altai:
http://www.altaitechnologies.com/
More on MuniWireless:
http://www.muniwireless.com/events
TS Max