SS7 for TIER2 & TIER3 VoIP Service Providers
For new operators entering the market topic of interconnection to SS7 based networks can be complicated to implement. The problem is that there are several variations for transporting SS7 and country variation deployments for the SS7 protocols.
The most common forms of interconnection are the following:
1) The first method uses a PRI ISDN trunk with one channel dedicated to transporting the SS7 signal.
2) A second method utilizes signaling channels inside the frame in format SS7
3) A third with exclusive links for signaling channels connecting to existing STPs (signaling Transfer Points)
Once you know the interconnection methods you can start to evaluate equipment and interconnection design. Digium cards only support PRI ISDN interconnection.
Asterisk deployments support interconnection to SS7 but you must load special drivers on Chan7, called the LibPRI channel, which was developed to work with SS7 using the ITU protocol. Most European and Latin American countries have adopted this protocol. My experience, however, is that you cannot assume that it will work 100% of the time. Before you commit to this deployment and interconnection design you should do a little homework. First your carrier knows what interconnection they can support but if there is a problem in understanding you can search the VoIP forums and find someone who has interconnected with that carrier in your country.
Another simple way to manage SS7 is to utilize a converter that changes SS7 to PRI but this solution will probably limit you on the quantity of E1s/T1s that you can allocate. You can use our product line SignalPathâ"¢ for this application. Contact ABP and we will be glad to discuss designs and costs on this option.
VoIP networks carry SS7-over-IP using protocols defined by Signaling Transport (sigtran) working group of the IETF, the international organization responsible for recommending Internet standards. The sigtran protocols support the stringent requirements for SS7 signaling as defined by the International Telecommunication Union (ITU).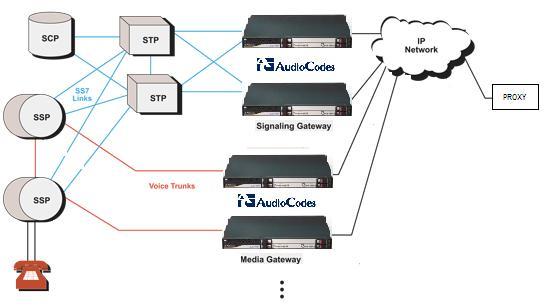 If you choose to interconnect to your carrier's SS7 network via the use of exclusive links, then you should use gateways that manage interworking of SS7-SIP through the use of sigtran. Some platforms do not incorporate sigtran as a signaling gateway, so your only option is to use gateways like the Mediant2000 series which work with SS7 networks all across the world.
These are some ideas that we would be glad to discuss with you. Just give us a call or e-mail.
Maritza