PLANET - Power over Ethernet
Complete PoE Solution for Commercial and Industrial Network
As a pioneer in networking equipment innovation, PLANET provides full range of Power over Ethernet (PoE) product lines from standard PoE injector / splitter, Injector hub, and a entire family of basic, smart and managed switches covering both commercial and Industrial grade applications. PLANET has switches offering standard PoE power output as well as units that offer enhanced 30watt (High Power PoE). PLANET is even developing 60 ~ 90watt PoE devices to deliver the next stage of PoE development. In PLANET's years of experience, they continually develop PoE Solutions to support efficient and flexible network deployment in every sector.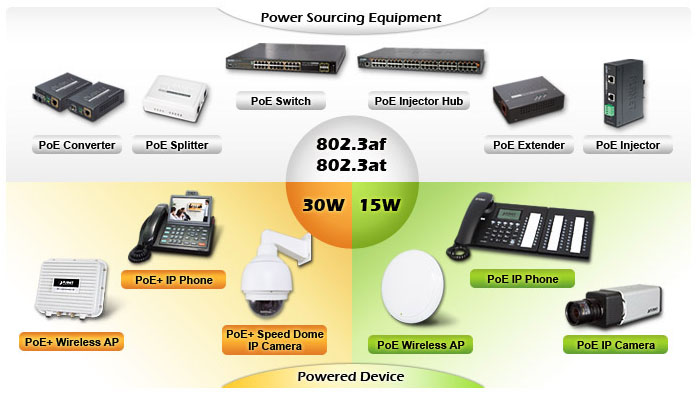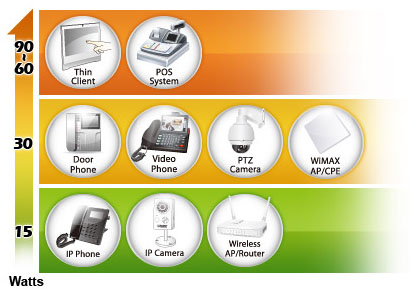 • Enhanced Power Budget
For different applications required in different enterprises and client users, PLANET offers PoE Switches from Fully Managed, Web-Smart, to standard PoE Switches that features 4 to 48 Port PoE choices to fulfill the varied needs of customers. With the Ethernet switching, PoE and full power supply system integrated in one box design, PLANET PoE Switches provide full power budget to satisfy the increasing needs for power consumption of powered devices, such as wireless AP and PoE IP camera. The IP-based remote Web management interface also provides an effective central power management solution to monitor and control deployed powered devices even on a port by port basis. 
•  Unique Intelligent PoE Management for Power Saving
In order to support users conveniently manage the PoE system or end-span devices in the client site, PLANET develops a unique and user-friendly Intelligent PoE Management functions which effectively assists the IT managers to improve the efficiency of management, save the cost of maintenance, and extend the life of products.

The PoE Intelligent Temperature Detection and Control function automatically detects the temperature of the environment and operating product. If the operating product is over normal temperature, this function will enable automatically to prevent the product from damage due to over temperature.

The PoE Power Detection function improves the working efficiency of IT manager. IT manager can check the total power consumption of all connected devices and power consumption of each connected device. In order to prevent connected devices from damages, this function automatically enables to protect the connected devices while PoE power consumption of connected devices overload.

The Auto-detected connected devices function support not only standard IEEE PoE products but also non-PoE products. This function can automatically detect and identify whether connected devices such as IP camera comply with standard IEEE PoE 802.3af, 802.3at or non standard PoE. For eco-friendly and energy-saving design, this function will depend on the length of the Ethernet to provide the optimal power usage and identify the status of the connected devices. If IT manager installs non standard IEEE PoE devices, this function can protect the device and supply optimal power usage.