Patton Will Host Next ABP IP Technology Road Show Highlighting Office-in-a-Box Enterprise VoIP Solution
SmartNode...More than just talk!
Gaithersburg, MD: Patton's headquarters—near the nation's capital—will the next stop for ABP's IP Technology Road Show in less than two weeks. The two-day event will showcase IP telephony and IP surveillance solutions during June 3-4 in Gaithersburg, MD. Register Now. 
At ABP's annual travelling convention for IP technology resellers, Patton has been presenting a just-announced SmartNode VoIP product: the SmartNode Branch Exchange (SNBX). 
Patton's SNBX debuts as part of a multi-vendor office-in-a-box IP-telephony solution for enterprises that integrates the SNBX with SmartNode VoIP Gateways, Grandstream IP phones, and Vitelity SIP trunks.
 
Patton will begin taking orders for the SNBX at the DC-area event. 
Launching under the catchphrase "One solution fits all," the unified enterprise VoIP system addresses just about any challenge a business is likely to face when making the move to converged communications. The solution supports up to 500 SIP extensions and up to 64 concurrent VoIP calls with transcoding.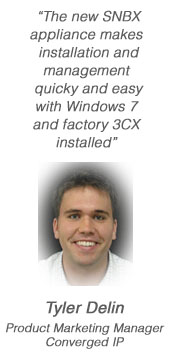 "ABP Tech offers a one-stop-shop for complete solutions for any SMB's IP-telephony setup," said Tyler Delin, Patton's Converged-IP Product Marketing Manager, "by partnering with four best-of-breed vendors. We are excited to showcase the new SNBX appliance. It makes installation and management quick and easy with Windows 7 and 3CX Phone System factory installed."

 
The SmartNode Branch Exchange is a network appliance running 3CX's windows-based IP-PBX software that streamlines overall system setup and deployment with built-in configurations for SmartNode VoIP Gateways.
"SmartNode VoIP Gateways and Routers are essential elements in the total solution," Tyler adds. "They interconnect with legacy telephony elements while providing such key functions as QoS routing for optimum voice quality. And with Patton's free customer support, no one beats our TCO proposition."
SmartNode solutions address such common challenges as IP-enabling an existing PBX, preserving PSTN access/breakout/fallback when launching a new IP phone system, and resolving interoperability issues when deploying SIP trunks, or setting up Microsoft Lync or IBM Sametime, or other unified communications software.
Patton products come with free gold-standard customer support. Unique within the industry, Patton's free-support proposition reduces total-cost-of-ownership (TCO). Most manufacturers require costly support contracts or per-hour charges. Patton provides free lifetime support—including downloadable software updates—at no additional cost.
After the DC show, ABP's IP Technology Road Show will head to Chicago for a June 6-7 event. Register Now. Touring throughout the summer, the show will make its final stop in La Paz Bolivia during September 1-2.




About SmartNode™ VoIP Solutions
Award-winning SmartNode™ equipment delivers state-of-the art VoIP technology that integrates seamlessly with existing analog POTS and digital ISDN infrastructures. Proven interoperability with all major brands of softswitches and iPBXs makes it easy for carriers and enterprises to deploy future-proof VoIP systems quickly and profitably today. Tens of thousands of SmartNode™ products are up and running in enterprise networks and carrier deployments worldwide, including one of Europe's earliestfirst-line VoIP services.
The SmartNode™ Unified Communication Agent™ (UCA) provides any-to-any multi-path switching (simultaneous SIP, H.323, ISDN, and POTS calls with routing and conversion between TDM/PSTN and IP/Ethernet networks—plus T.38 and SuperG3 FAX) combined with dial-backup and IP-link redundancy for VoIP and data survivability. The UCA also provides VoIP-over-VPN security with encrypted voice via IPsec with AES/DES strong encryption and automated keying via Internet Key Exchange (IKE), plusSIP Registrar for presence/reachability. 
SmartNode™ preserves all the ISDN telephony features that ISDN users depend on and network operators require (AOC, CLIP, CLIR, UD64, overlap dialing, and fax, as well as MSN and DID). Built on the industry's most interoperable VoIP platform, the SmartNode™ S-DTA supports ISDN, SIP, H.323, and MGCP/IUA signaling. Patton's SmartWare™ features touchless auto-provisioning, high reliability, and proven interoperability with all the major-brand softswitches and IP-PBXs.
Scaling from 2 to 2048 voice calls, SmartNode™ VoIP gateways, routers, IADs, Session Border Controllers (SBCs) and SmartMedia TDM+VoIP gateways offer every industry-standard interface, including T1/E1, PRI/BRI STM-1/OC3, DS3, , FXS/FXO, V.35/X.21, Ethernet, G.SHDSL, ADSL2+, and more, while Patton's advanced DownStreamQoS™ technology delivers clear, toll-quality voice on every call. For more information about SmartNode™ equipment, go to www.patton.com/voip. 
About Patton
Patton is all about connections. It is our joy and mission to connect real-world customer challenges with high-quality, right-priced solutions—complemented by unrivaled customer service and technical support. Incorporated 1984, Patton has built everything from micro-sized widgets that connect "this-with-that," to carrier-grade Telecom gear that connects subscribers to service-providers. Patton's specialty is interconnecting legacy TDM and serial systems with new-generation IP-based voice, data, and multi-media technologies. 
Headquartered in Gaithersburg, MD, USA, Patton equipment—including VoIP, Ethernet extension, and wireless router technologies—is up-and-running in carrier, enterprise and industrial networks worldwide. Patton works in connection with a growing network of technology, business, and sales-channel partners. To connect with local-market requirements, Patton operates training and support centers in Switzerland, Hungary, Lebanon, India, Vietnam, and the USA.
Patton… Let's Connect!