Patton Appoints ABP to Distribute BODi rS Bandwidth-on-Demand Internet Routers
January 21, 2013
ABP will offer businesses throughout the Americas and the Caribbean a valuable, new game-changing technology from Patton. BODi routers offer cost-effective, on-demand bandwidth aggregation by bonding up to seven 3G/4G/LTE, WiFi/WiMAX or VSAT uplinks.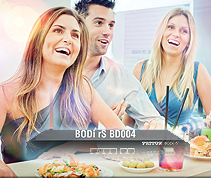 BODi rS™... More Bandwidth. More Reliability. More Survivability.
Gaithersburg, MD and Dallas, TX: Patton Electronics (www.patton.com) has selected ABP Technology (www.abptech.com) to distribute the new BODi rS™ line of bandwidth-on-demand internet bonding routers, the two companies announced today.
For business-critical communications, BODi rS cost-effectively increases bandwidth, while providing "five 9s" availability and seamless failover for always-on network connectivity.
Announced last August, the BODi product line offers cost-effective, on-demand bandwidth aggregation for fixed and mobile enterprises of all sizes by bonding up to seven 3G/4G/LTE, WiFi/WiMAX or VSAT uplinks.
"ABP Tech is delighted to be selected as Patton's flagship distributor for this exciting new product line," said Robert Messer, President of ABP.
As an experienced, high-profile distributor of enterprise solutions, ABP will offer businesses throughout the Americas and the Caribbean a valuable, new game-changing technology from Patton, while providing high-quality customer support.
"Launching BODi rS with ABP was a no-brainer for us," said Brian Lawlor, BODi rS Product Manager at Patton. "Beyond the opportunity to develop a thriving business relationship, ABP is the ideal partner to bring BODi rS to market."
Given the companies' history of cooperation, the appointment makes a lot of sense. ABP is already a prime distributor for Patton's SmartNode™ VoIP gateways and CopperLink™ Ethernet extenders. 
Messer continues, "With BODi rS we can offer our broad base of resellers and their business customers a great new enterprise solution which avoids downtime and cost-effectively enhances bandwidth. We view this appointment as a fresh opportunity to bring true value into a developing market."
Lawlor adds, "We are confident that ABP's knowledge and experience effectively positions them to introduce BODi rS to key target markets throughout the region. As we launch this exciting technology together, we look forward to strengthening our successful partnership with ABP." 
Starting January 30 through February 1, ABP will showcase BODi rS products at ITEXPO East in Miami, Florida. Meet ABP and Patton together—and see the new BODi—in booth 322.
About ABP Technology
ABP Technology is a Dallas, TX based, value-added distributor of IP Communications products and services marketed throughout North America, Latin America and the Caribbean. The ABP portfolio includes IP phones, IP PBXs, IP peripherals, IP cameras, IP video conferencing, mobility solutions with WiFi, DECT and Dual mode technology, engineering consultation services, technical support, IP training, provisioning and configuration services. ABP sells and supports proven Interoperable IP products based on Open Standards offering connectivity, security and mobility at optimal TCO with ease of deployment and high functionality. ABP's clients include channel partners, specialized VARs, Service Providers, government entities and educational institutions. For more information, please visit www.abptech.com
About BODi rS™ 
BODi rS is small, light and full featured. Unique VPN bonding, load balancing and failover technology ensures bandwidth robustness and network survivability. With VRRP(Virtual Router Redundant Protocol), BODi provides five nines availability, and ensures your connectivity stays up so critical applications stay alive and your business keeps going. In the event that internet connections are lost or ISP links go down in the enterprise, end-user traffic is transparently and automatically routed across other available wired or wireless internet connections. These can be any type of connections including, T1s, DSL, WiMax, 4G, LTE and even VSAT. All this combined with IPSec VPNs and WiFi mesh capability makes BODi rS the ideal fixed or mobile solution for secure, enhanced bandwidth and backup. Always. Everywhere.
About Patton
Patton is all about connections. It is our joy and mission to connect real-world customer challenges with high-quality, right-priced solutions—complemented by unrivaled customer service and technical support. Incorporated 1984, Patton has built everything from micro-sized widgets that connect "this-with-that," to carrier-grade Telecom gear that connects subscribers to service-providers. Patton's specialty is interconnecting legacy TDM and serial systems with new-generation IP-based voice, data, and multi-media technologies. 
Headquartered in Gaithersburg, MD, USA, Patton equipment—including VoIP, Ethernet extension, and wireless router technologies—is up-and-running in carrier, enterprise and industrial networks worldwide. Patton works in connection with a growing network of technology, business, and sales-channel partners. To connect with local-market requirements, Patton operates training and support centers in Switzerland, Hungary, Lebanon, India, Vietnam, and the USA.
Patton… Let's Connect!