MS Exchange, Unified Messaging and VoIP all in one – What it means to the VARs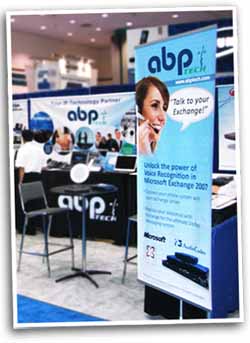 The largest software company in the world has embraced VoIP and, in a way, reinforced SIP (Session Initiation Protocol) as main VoIP open standard protocol. Microsoft's Exchange 2007 and Office Live Communications Server ( OCS ) added VoIP support to its products opening new opportunities to sell, install and maintain required additional SIP based hardware such us IP phones, Gateways and IP-PBXs.
Microsoft Exchange worldwide market  penetration among enterprises users is huge and is projected to grow to about 1.9 billion mailboxes by 2009. By then, the majority would probably be taking advantage of Unified Messaging and a new breed of voice driven services that Microsoft has nicely included its Exchange 2007 Unified Messaging platform.
Unified Messaging (UM) is a broad and not so new buzz word but until now, the best most people could get is receiving voicemail as attached wav file in ones e-mail inbox. I see it as unidirectional UM, in which phone messages could be accessed and controled from a computer. Exchange 2007 enables what I call bidirectional UM in which in addition to the above, e-mails, calendar events and contacts can be accessed and controlled from a phone by listening and talking to the system. We can read from many other sources the advantages of what Exchange 2007 offers in terms of integrating voice and seems to be something that will be massively adopted among enterprises that already use Microsoft messaging products.
The importance to us lay in the fact that voice has to be delivered from/to the server that sits in a data IP network in one or other way. Following is how the market for Voip VARs and Microsoft Partners will be impacted:
·    If conventional PBXs are maintained, enterprises would need Voip gateways that convert TDM or analog voice channels to Voip.
·    IP-PBX deployments would most likely be the choice for those that required to buy a new or upgrade the existing PBXs.
·    Along with IP-PBXs, deployments would require Ip phones, POE switches, bandwitdth management devices, etc.
·    In any case, product specific expertise and knowledge of Voip, SIP and related protocols would also be demanded.
Microsoft only supports SIP over TCP. Originally the SIP standard contemplated the use of UDP packets only but later adopted TCP. Most of the SIP implementations being used in SIP gateways, Ip phones and IP-PBXs only support UDP and can't be used in conjunction with Microsoft products. Being SIP a not so mature standard, there is also interop problems that need to be worked out.
The question is what gear to use that would be integrated with Exchange 2007 with out problems. Fortunately, we have an answer for each kind of device:
+ Gateways: Microsoft certified Audiocodes digital and analog gateways and actively recommends using them as single vendor option at this point for interfacing with conventional telephony equipment. Also, Audiocodes supports SMDI and DTMF for communicating with conventional PBXs on voicemail additional information. 
+ IP phones & IP-PBX: Microsoft have tested and, in a way, endorsed Snom IP phones and Pbxnsip IP-PBX when featured them in Microsoft's booth at the latest CeBIT show in Germany. Cebit is the latest computer trade show in the world.
At ABP we did our homework. We installed Exchange 2007, configured and tested most common scenarios involving Audiocodes, PBXnsip and Snom..... Pretty cool thing!
Please talk to your ABP sales representative for more details on how to get started and maybe to signup for one of our training classes.
Henry
More on Microsoft Unified Messaging from ABP
 
AudioCodes Resource Page for Microsoft Unified Messaging
Update on Microsoft Exchange 2007 Features
Sign-up to become a ABP Partner and get VoIP Support and access to Best VoIP Equipment, Peripherals and Software in the market.