MOBOTIX SIP cameras converge telephony with security on Asterisk(TM)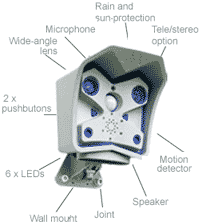 ABP Technology recently announced the introduction of a new line of SIP based IP Cameras and the FREE Monitoring software from MOBOTIX for advanced BUSINESS surveillance solutions.Prevention of crimes to businesses, break-ins, loss prevention, and legal protection are critical to many of your customers and bring a whole new dimension to IP communications. With this new IP Video surveillance solution small medium business, enterprise and government customers can monitor, record, and receive alarms on triggers as calls to cell phone with audio and video via their IP-PBX.MOBOTIX cameras are MEGAPIXEL and the day-night units can operate at night down to 0.1 LUX always providing crisp sharp images that allow you to identify and recognize suspects. With 1.3 million pixels high resolution and its true color imaging system, the MOBOTIX network cameras attain a resolution that is twelve times as high as on analog video systems that are commonly using CIF format. Plus, you have two way audio in the camera that adds the ability to monitor, listen, and interact.MOBOTIX IP Cameras empower customers to self monitor and record IP video streams on a NAS. MOBOTIX has a patented compression and can stream only when activities are sensed. The cameras also can trigger on optical, acoustical, temperature, sensors or IR events with true alarm and visual trigger functionality in each intelligent camera. Cameras are weatherproof from -4F to 124F and are rated for years of outdoor usage with no maintenance requirements.MOBOTIX cameras are perfect for a wide range of applications such as security and observation, logistics and transportation, but also used in production and manufacturing, sewage plants, tourism and weather observation, and private installations as online web cams. The sky is the limit! MOBOTIX cameras are a lot more intelligent and robust than conventional Web-cams and are extremely well engineered, with stainless steel mounts and rugged, some even waterproof casings enabling to be used in extreme weather conditions, with waterproof covers and Vandal-proof models.The MOBOTIX Concept includes the fact that each camera has their own integrated Linux system and application software providing incredible winning advantages when compared to analog video technology and conventional webcams.The list of advantages for MOBOTIX IP based surveillance is long and most high-end CCTV installers that we speak to, immediately see that this product gives them great advantages over the competition without even considering the unbelievable opportunities when integrating with an IP based PBX. See the incredible list below:+ Designed for twenty four hour use (day-night cams) with unique built-in remote communication, alerting and recording features designed specifically to satisfy the professional surveillance market.+ Built-in Linux sever processor. Users needed no special software to access the camera; just a browser to connect to the integrated Web server.+ SIP compliant endpoint. Cameras can initiate SIP calls to PBX or receive calls with both IP Phones and IP Video Phones.+ Increased resolution reduces number of cameras needed with 960 lines, high resolution sensors give a better overview and allow monitoring an entire room with just one 90°camera from the corner.+ A user-friendly Web-based GUI is used to configure and manage the camera. For example, you can set events that will trigger alerts and tell the camera who to call or e-mail when these events occur. Likewise, there's a Web-based GUI to manage the built-in recording facility which can be used to capture both still images and video streams. These can be stored to the internal camera memory or on a remote server. Remarkably, there is no special hardware or software at the server end, just a shared Linux or Windows folder.+ Reduced installation costs irrespective of distance. Standard Ethernet connection enables the use of common network components such as fiber, copper and wireless (WLAN). Power over Ethernet (POE) simplifies power to cameras and reduces cost of installation.+ Intelligent recording technology reduces storage requirements Decentralized recording technology in the camera software puts less strain on PCs and reduces the amount of storage PCs (DVRs) by a factor of 10.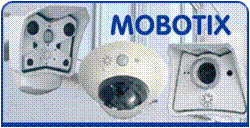 + Full range of cameras: single lens, dual lens, day only or day night plus dome and vandalism proof cameras. ABP provides a full range of lenses from 180 degree views to tele-views plus many other accessories for external I/O, sensor input, relays output, external microphone input, etc.+ The FREE downloadable MX Center Control software provides a state of the art surveillance platform. You can configure all aspects of alarming and monitoring and build and configure a sophisticated control center for your customers. The software is free which enables you to bill and collect more for services and also deploy various command centers per camera. This fact that the MOBOTIX cameras can be controlled over both the MX Center software but also interact as SIP endpoints opens up a whole new world of applications that now can be build combining Asterisk and MOBOTIX cameras.+ Event-controlled image rate minimizes storage cost. Event-driven, automatically adjusted recording frame rate based on event or sensor action reduces amount of data and storage costs, o additional power and no heating required.+ Low power consumption, 3 Watt. Anti-fogging without heating allows usage of standard PoE technology to power the system via network and saves costs of power cabling Backup power requirement reduced by 8 times.+ Robust and practically maintenance free Fiberglass-reinforced composite housing with built-in cable protection and no mechanical moving parts (no auto-iris) guarantees longevity.+ No additional software or license to buy. Control and recording software is integrated in the camera and is at no cost; new functions are available via free software downloads.+ Unlimited scalability and high return on investment. While in use, more cameras and storage can be added at any time; image format, frame rate and recording parameters can be camera specific.+ Additional functions and other extras including audio support, lens, wall mount and weatherproof housing (-30° to +60°C, -22° to +140°F); microphone and speaker available in certain models.+ Higher Resolution and Higher Compression Compared to the motion JPEG standard (Joint Pictures Expert Group), «MxPEG» requires only one third of the network bandwidth for data transmission, while still providing very high image quality. The second major advantage of MxPEG is its ability to simultaneously transmit several video and audio channels with different bandwidths.

Mobotix at ABPABP has selected MOBOTIX after evaluating IP cameras for over 2 years. MOBOTIX cameras have been interop tested by ABP Technology to work well with Asterisk 1.4, snom IP Phones, Innomedia Video Phones and Counterpath video softphones. We enjoy sharing our interop experiences and helping you design new solutions based on our product portfolio. Please call us to talk over your ideas, discuss how to integrate with Asterisk and let us help you quote what you would need for your solution. Please contact your Sales Representative for more details and to place your order for a MOBOTIX VoIP demo camera.Check out This Months ABP MOBOTIX TRAINING and DEMO Camera Special. If your customers have not moved to an IP based phone system this may be one more reason for why it's time to change to IP communications.Your ABP TEAM