Make and Receive VoIP Calls with Epygi's Softphone Application - eQall
eQall is Epygi's softphone available for Microsoft Windows and for mobile devices using iOS* and Android. It can be installed on a desktop PC, a laptop and a smartphone and will use the internet for making, receiving and transferring VoIP calls directly from your computer. With its easy-to-use interface it functions much the same way as any Epygi supported full-featured desk phone would.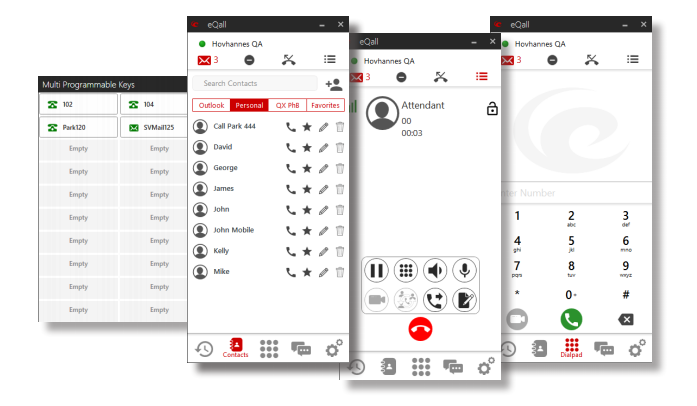 eQall is a full desk phone replacement and is intended to be used only with QX/UC PBX appliances and Epygi ecQX, the cloud based PBX. After activating the license key it registers as an extension to the QX/UC/ecQX system and operates like a normal PBX extension without the need for a desk SIP phone.
There is no need to worry about spending on costly hardware. All you need is a data connection from your device to the QX. Very conveniently you can take it with you should you need to move offices, work from home or while on the road.
Using eQall softphone will give users a number of advantages. Besides basic telephony features, they will appreciate the advanced features like:
instantaneous auto provisioning via a QR code
automatic connection to the proper QX interface
automatic switching between QX interfaces when the device changes from a local to public network
diverse contact directories
voice mail retrieval
call history
embedded chat tool
and more very cool features in future releases
For a complete list of all features, click here.