Kentix Re-invents Body Temperature Screening
A striking simple solution to screen fever/elevated body temperature in the time of COVID and after; protecting the workplace from Influenza and other unknown future situations. 
Leonardo da Vinci invented fantastic things in his time. Kentix re-invented fever screening for our times.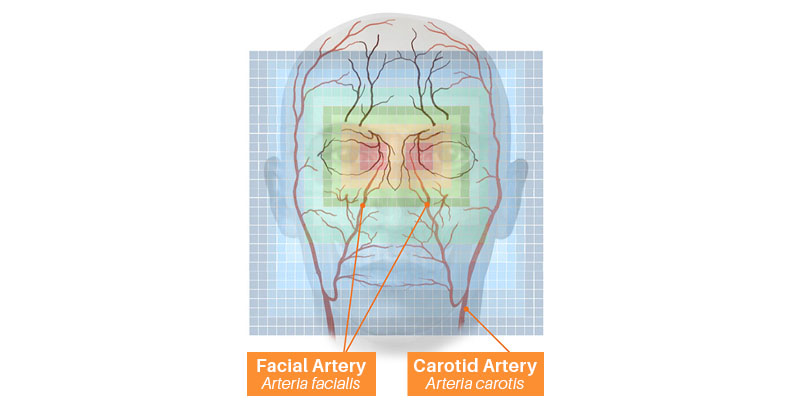 WHAT DOES IT DO?
The Kentix SmartXcan measures the temperature generally in the area of the inner side of the eye. This is where the facial artery (Arteria facialis) runs and provides the most stable measurement results.
HOW DOES IT WORK?
Kentix has embedded intelligence to find not just the hottest point in an image field but is trained on the eye region and therefore much more exact than any other product in this price category.
From a workflow point of view functionally the units operation follows the "Keep it Simple" principle. People just get to the unit and look down at it and BEEP green BEEP Red. (2 -5 seconds as people learn to adapt and their muscle memory get used to quickly finding the right distance ~30 cm, aprox. 13 " ) The unit has a light and acoustic alert that can be programmed and tuned to show status and a add-on optional relay module is available to control external lights.
But what if people come from outside and have a very cooled face? The Dynamic Temperature Correction (DTC) integrated in the SmartXcan correct possible deviations dynamically and reliably.
Overall the most commented aspect of Kentix is how simple and binary it is. Companies want a simple solution; they do not want to get a PHD in thermal imaging technology.
INTEGRATION WITH ACCESS CONTROL
The same KIO3 relay is used to interface easily on the electric side to practically any access control system. Kentix KIO3 offer two bistate relays that switch up to 120v and can be added in series to any strike or in parallel with any mag lock that is being controlled by any access control system. ( Access control integration will require someone with experience and adequate certifications if required in your state.)
MANAGEMENT OF UNITS
Management of units can be easily done locally over a HTTPS connection to the GUI of the device by the organizations IP team. 
ROBUST REMOTE MANAGEMENT OPTION
Larger companies will want to ensure that they can securely access and maintain the equipment remotely.
Remotely with IPTECHVIEW a secure remote deployment, remote monitoring and remote management platform for MSPs, Technology Partners and their Enterprise customers. All units can be sent to partners completely pre-configured in our RAMP program. 
IPTECHVIEW access is over our secure cloud server with 256 AES encryption and 2 FA. Active Directory and Google Single Sign-on are available. IPTECHVIEW also streamlines and enables remote MOBOTIX and AXIS camera integration, cloud recording and access to IoT for remote control access, SMS, Email and SLACK notifications.
Other important aspects are the fact that this product has a RESTful API and can be integrated with your customers security management software including secure access over IPTECHVIEW. 
INTEGRATION VIA RESTFUL INTERFACE
Reports and special programming rules can be created externally by companies inhouse software team or system can be integrated by the access control specialist to program and inputs over IP Notify's instead of wires to program special rules. 
BASIC KENTIX STAND
Many of our partners have created very creative and unique stands and wall mount options with additional integrations. For simple and fast deployments partners can use Kentix Wall Mount Bracket included in the package or can buy the standard Kentix Stand offered by ABP. (Inspired by Kentix Germany's model. Made in the US with powder coated steel. Included cable channels and definitely non tiltable.)