Improved Wireless and Mesh Solutions Available Now for SMBs
New DrayTek WiFi solutions offer advanced enterprise features including state-of-the-art dual Band 11ac Wave 2 chipset. With the same bells and whistles as much more costly solutions in the market, DrayTek AP deployments are growing rapidly. Some of the outstanding features include:
AirTime Fairness: Equalize the transmission time of each client so the legacy devices won't slow everyone down.
Band Steering: Redirect 5GHz-capable devices to the 5GHz radio to get a faster speed.
Assisted WiFi Roaming: Solve the sticky client problem and improve the WiFi roaming experience.
Central AP Management: Manage, maintain, and monitor Access Points from DrayTek routers.
 

Mesh
The first DrayTek Access Points to support this feature is the new Vigor AP 903. With mesh technology you can extend WiFi coverage and eliminate dead spots without having to lay new network wire. For improved performance, mesh nodes use a secondary wireless band for uplink.
Easy Installations
No cable deployment, no repeat configuration, you can kill the WiFi dead zone in minutes
Resiliency
The rich interconnection between nodes provides the ability of self-healing: when one is down, others can take over. 
Synced Settings
The Mesh group shares the same WLAN configuration and automatically builds a roaming environment.
Central Management
Grouping the APs allows the network admin to monitor all the clients and devices from a single screen.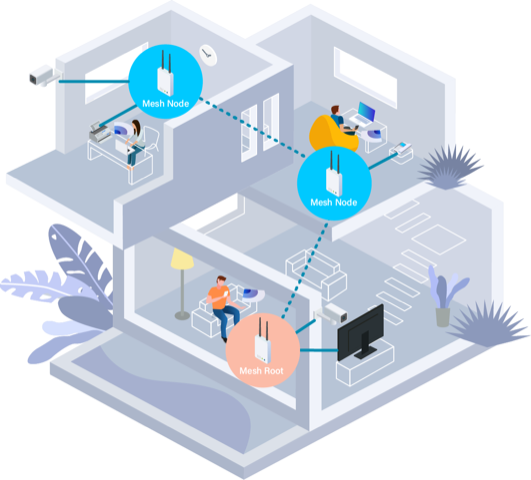 For those Technology Partners using IPTECHVIEW it is posible to monitor the response time nd health of your Draytek APs and configure them remotely via IPTECHVIEW via the integration with Drayteks ACS. For best, most complete and fastes control of your APs we recommend to utilize an IPTECHVIEW Security Gateway (IPT-SecGate-One) as a secure bridge device to full manage all devices at the customers location.