How InfiNet Improved Safety for Public Transit
OptiBus is a bus rapid transit (BRT) system operating in León, Guanajuato, Mexico. The metropolitan area surrounding the city is home to approximately 1.8 million people, making it the seventh most populous area of Mexico. Optibus operates a large network of buses within the city and its municipal areas running across 65 stations, 5 different lines and with a daily ridership of around 350,000 people. Crime levels in this city are considered high and have increased in the last three years by up to 70%. In order to keep passengers safe, the company maintains a network of CCTV cameras to monitor, prevent and deter crime.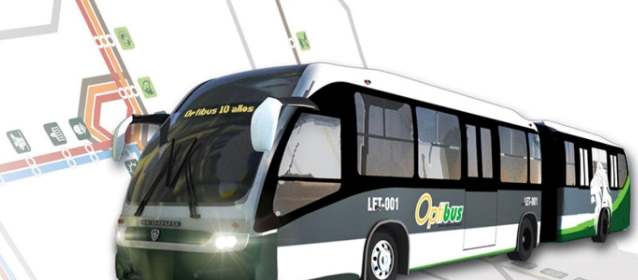 The network was administered through an outdated Motorola Canopy wireless system when the service initiated in 2003. It offered a maximum throughput of 4 Mbps per base-station sector, and this caused the network to become increasingly saturated, with real-time video that was becoming impossible to transmit which negated the purpose of the system. It was also becoming increasingly difficult to maintain, with replacement parts being scarce and expensive. As Optibus staff were unable to collect the data from the cameras remotely, extra staff had to be employed to perform this task manually at each station. If a crime was committed, there would be a significant delay in getting the video evidence.
A need to increase network capacity was apparent, to not only ensure the safety of the passengers, but to also enable Optibus to look at ways that other passenger data could be collected across the network. Optibus reviewed the available solutions and compared the InfiNet Wireless products to Alvarion, Cambium and Radwin, looking at suitability, reliability and price point.
InfiNet Wireless decided to run a test with one base station and 10 InfiMAN Point-to-Multipoint (PMP) subscribers. The test was extremely successful, achieving 8 Mbps per subscriber – enough to watch video in real time - as opposed to the previous Canopy system's capabilities of 160 kbps per subscriber. In addition to its excellent performance, when Optibus compared the price of the InfiNet Wireless system to other solutions, they found the price of the InfiNet Wireless solution to be considerably more favourable. InfiNet Wireless provided the link test with reliable and dependable results, therefore OptiBus made the decision to go ahead and extend the project to include 5 base stations, 3 Point-to-point (PTP) InfiLink systems and 55 InfiMAN PMP subscribers.
OptiBus has seen a significant improvement since the overhaul. Cameras at bus stations are now supported by a network with the bandwidth-capacity to transmit images in real time, and staff now have the added capability to monitor and collect data and passenger billing information remotely. With one monitoring center in the Optibus head office, staff are now able to get data from 53 connected bus stops across five separate base stations.
By using InfiNet Wireless' products, OptiBus has been able to deliver a reliable and future-proof solution; ensuring their CCTV network delivers real-time footage and data collection. Additionally, the new technology has allowed OptiBus to get alarms, information about phone usage, reports from the collection system, and overall monitoring system completely online – providing a much more efficient and reliable network.