How do you connect these phones again? 2.0
Today's phone systems have more remote users and off-premise or cloud PBX than ever before, making local detection and self-configuration of phones ever more challenging. That is where  ABP can come to your help by providing a new service and new platform for resellers to make this easier.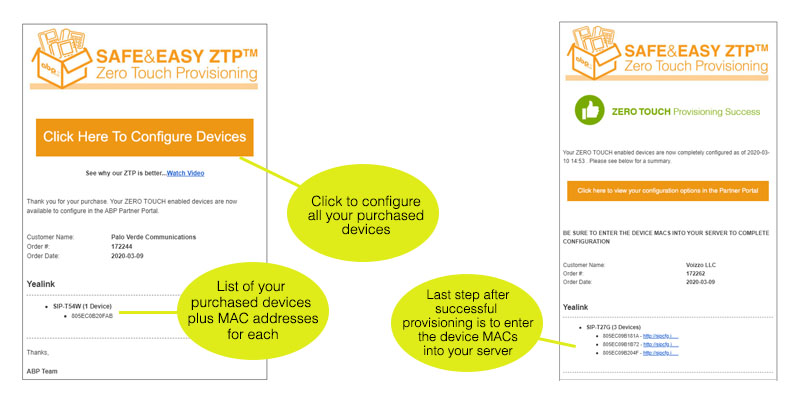 ABP's FREE Safe&Easy ZTP™ - one of the many value-adds that ABP offers exclusively to ABP partners - will redirect all of the phones you purchase from ABP and sell as extensions on your PBXs. 
Use Safe&Easy ZTP™ system to manage all these phones automatically and re-point them in case there are any future PBX changes. This puts you in control! In fact, ABP's platform even works if customers do a factory reset.
The Safe&Easy ZTP™ dashboard is in the ABP Partner Portal. You can also add new features like ABP's NATPass™  Automatic Far-end Nat Traversal and IPTechView™ QoS monitoring to ensure your phone solutions are working well. 
Last you can even reboot phones remotely - via IPTechView's secure cloud power manager for Draytek PoE Switches - without having to ever visit the customer site.

But it gets even better. We took  it a step further and now present you Safe&Easy ZTP™ 2.0. Here are the main updates and improvements we have done for you with ZTP 2.0
Option to use your own provisioning account from Yealink or Fanvil RPS

Single sign-in for all RPS accounts; you don't need to remember multiple passwords

Single pane of glass for multiple phone manufacturers in phone information at your fingertips (no need to copy/paste)

Push all MACs directly to your 3CX PBX
​Best of all, this is a completely FREE service provided by ABP! Simply purchase your phones from ABP and we'll offer you the MAC addresses in email if you want to do these things manually or even better our ZTP 2.0 button to trigger our fully automatic cloud system. Just press the button in your confirmation email. That's it - fast and simple. Safe & Easy ZTP 2.0
Have more questions? Contact us today and we'll be more than happy to explain in more detail.