Grandstream: Your One-Stop-Shop for All UC Integration Needs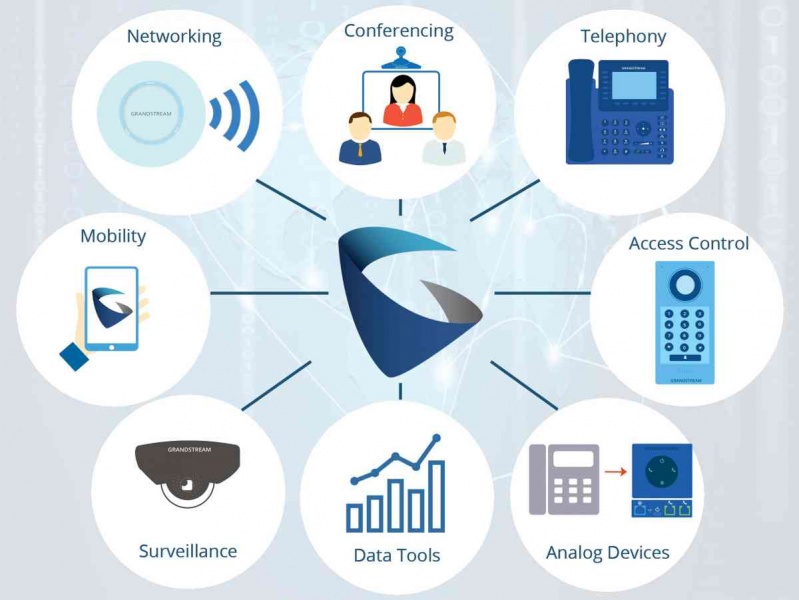 We have been talking about integration on our blog quite a bit recently. It has become one of the most popular buzzwords in communications as open-source technology continues its takeover of the industry. Integration is not just something that manufacturers should be talking about but something that end-users should pay close attention to when designing, deploying or expanding their solutions. Because many manufacturers have become so concentrated on specific product types, most manufacturers talk about their integration with products and services from other manufactures. If your technology is based on SIP, integration with other SIP products is pretty much a given. Like most manufacturers, our SIP solutions will be interoperable with pretty much any other SIP product or service.
However, here at Grandstream, we take integration a step above and beyond that. Because we are one of the few manufactures that provides all the products needed to build SIP unified communications solutions - including telephony, video conferencing, audio conferencing, physical security, networking as well as backend IP PBXs and conferencing platforms - we offer a one-stop-shop for all the unified communication solutions you might want to integrate with each other. Because we make all of these devices, we are able to further optimize our suite of devices to not only be compatible with each other, but to actually add features and functionality to your solutions by allowing the devices to work together. Not only can our products work together like any other SIP products, but our products are able to expand their functionality when working together. The best part? There is no special integration or setup to achieve this. These features are standard and supported in our usual firmware. Let's take a look at some examples.
Facility Access Control and Voice/Video Telephony
Teaming up our GDS3710 Video Door System and any of our IP voice or video phones allows you to create a real-time, proactive solution to monitor and control all access to any facility using your telephony solution while also creating a voice and video intercom solution.
Video Conferencing and Voice/Video Telephony
Add our GVC series of video conferencing devices to your network to create a dedicated voice and video conferencing room that is accessible from a simple SIP extension call. Video phones calling in to the conference will receive live video and audio, while audio phones will hear live audio.
Video Surveillance and IP Voice/Video
Telephony Our GXV series video surveillance cameras and any of our IP voice or video phones can work in tandem to not only monitor and record all activity, but to proactively alert your telephony solutions when events occur and allow you to take action when an event occurs.
Analog Devices and SIP Networks
We offer a full portfolio of analog telephone adapters (ATAs) and VoIP Gateways to allow you to put any analog phone or fax machine on your SIP network. Our devices even extend a suite of features usually only found in native SIP devices to these IP phones.
Mobility Tools For Your Communications Platform
Grandstream provides a variety of free tools that allow you access and utilize all your communication resources from anywhere, including our Grandstream Wave softphone app, IPVideoTalk Web Conferencing platform, remote access to analytics and data, fax sending from the web, voicemail and fax forwarding to email and more.
Data to optimize your efforts
Enhance and improve your efforts with data and analytical tools including call recording, CDR, customer billing, hospitality management, CRM, call center and other data resources included in our UCM series of IP PBXs.
Build Powerful Business Networks
In addition to every SIP endpoint and backend device you need to build SIP networks, we also offer a full portfolio of networking solutions to allow you to purchase solutions to build you wired, WiFi and VPN business networks from the same source that you buy your UC products from.
To learn more, click here to download our new integration datasheet. Also, keep an eye out for the release of detailed integration guides over the next few months.
Originally published by: Phil Bowers, Grandstream Sr. Marketing Manager, We Are Your One-Stop-Shop for All UC Integration Needs