The GDS3710 Door Station is So Much More than Just a Security Device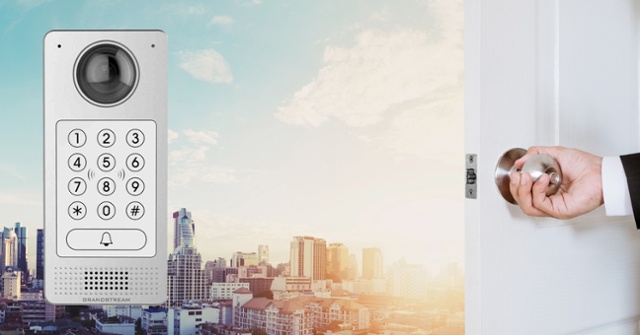 Since we launched our GDS3710, it has gotten a lot of attention for the tremendous security functionality it offers. The GDS3710 puts a streaming, HD security camera at the entrance to any building entrance while enabling you to restrict access to certain visitors or everyone. It offers motion detection functionality to trigger calls or sound alarms and can be integrated with any third party ONVIF Profile S compliant network video recorder and other security products. If you are looking to keep any building or room secure while restricting access and recording activity, the GDS3710 is for you. However, today we are going to take a look at the ways the GDS3710 makes running and managing any business easier and more efficient.
The GDS3710 and GDS Manager – Your HR Management Solution
Many companies, especially service-based businesses, pay employees on an hourly wage. All of these types of businesses need a convenient and efficient solution to keep track of employee hours worked for compensation and human resources management. The GDS3710 paired with the free GDS Manager software is just that solution. The GDS3710 supports RFID cards or fobs – and you can even purchase those from most Grandstream channel partners. Provide all hourly employees with RFID cards and have them simply scan those cards on a GDS3710 when they start work. When that scan occurs, GDS Manager will recognize it, record it and log it within the software for your use on attendance management reports.
Using GDS Manager, each RFID card is programmed to be unique per each individual and you can even allow employees to use that same RFID card to get into other areas of any facility. If you don't want to install a full GDS3710 at every location you wish to track attendance or access, we also offer a USB RFID Card Reader that can be integrated with a GDS3710 and GDS Manager. This USB reader simply needs to be connected to any computer.
Makes Office Management and Access Easy
Managing the comings and goings of any business is often a difficult yet critical job. Ensuring that a visitor can easily access a facility and get to where they need to go, while ensuring that they are the correct person and restricting access to others, can be complicated. This especially true for large buildings and those with numerous entrances. The GDS3710 makes this process much easier while also turning every Grandstream endpoint throughout a business into a facility and office management solution. Aside from providing streaming video feeds that can be monitored and recorded, the device creates an instant connection between visitors and anyone within the business to ensure the visitor securely gets to where they need to go. This can be done in a few ways:
Turn on motion detection and have the GDS3710 automatically trigger a call to any person on any Grandstream phone within the business, usually a receptionist or security staff member.
Require visitors to click the "door bell" button (the largest button on the device) to trigger a call to a centralized receptionist or security personnel
Allow visitors to call specific extensions (can be any local SIP extension) and provide a chart near the GDS3710 to allow them to call anyone directly
Because all communication from the GDS to other devices are SIP calls, these calls can be easily re-routed the same way any SIP call can be. This allows, for example, forwarding of calls to or from the GDS3710 to other employees and personnel.
Because the GDS3710 supports SIP video, if you are using any SIP video device, like our GXV3200 series or IP Video Phones for Android, you will not only hear live audio but you will see streaming video. Our GXP2100 series of High-End IP Phones will show you streaming video screen shots from the GDS3710.
Our IP phones can obviously make and receive SIP voice or video calls to and from the GDS3710, but we take that a step further by allowing all of our IP phones to be programmed to actually open doors integrated with the GDS3710. This allows for easy, efficient and secure management of all office activity. Improves the Guest Experience You just heard about the GDS solutions makes it easier than ever to securely manage access to any office. This not only is great for businesses but it may be even better for their guests and visitors. It is always confusing to visit a facility that you are not familiar with, and the GDS3710 provides a very visible and attractive guide to visitors. It gives them a resource to connect with someone and find out where they need to go. Since the GDS solution offers so many options for handling visitors while ensuring they get to the right place, it simply improves the guest experience while giving a great impression of your company.
Interested in the GDS3710? Here are some other resources to check out
Interested in purchasing? Contact us @ 972.831.1600 or sales@abptech.com
Originally published by Phil Bowers, Grandstream Sr. Marketing Manager, The GDS3710 is So Much More than Just a Security Device