The Future of Selling Technology Solutions is Changing - Are You Ready?
The technology market is rapidly changing and a large proportion of the value-add resellers and integrators provide in the future will come from the services they provide after the initial sale. As long-term specialty distributors in the space, we concluded we could best support your growth by providing you with tools and solutions that will help you provide more of these services.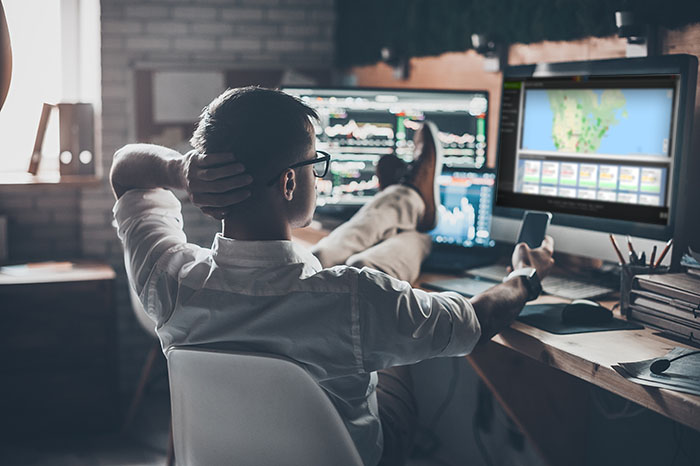 We decided a few years back that the best way for us to do this was to focus on building an ecosystem with leading products that can be remotely managed to form valuable solutions and for us to create a platform that binds everything together to both manage these solutions and support you in delivering your own services to your customers via the cloud.
We created the cloud-based platform called IPTECHVIEW to give you remote system health monitoring, full remote configuration, and management capability for everything you install. IPTECHVIEW makes it easy for you to deploy projects and finalize all of your customers' configurations without having to physically go to your customer site. We basically preconfigure everything so you can even ship, have it installed by a local crew, and then can remotely configure everything from within the IPTECHVIEW platform.

In addition to being your IP technology product distributor, we also preconfigure and test all solutions and products you order from us before we ship them. All devices will be pointed at your cloud management account in the IPTECHVIEW platform and can be specifically tagged to your customer/project in your PO, or customer portal order.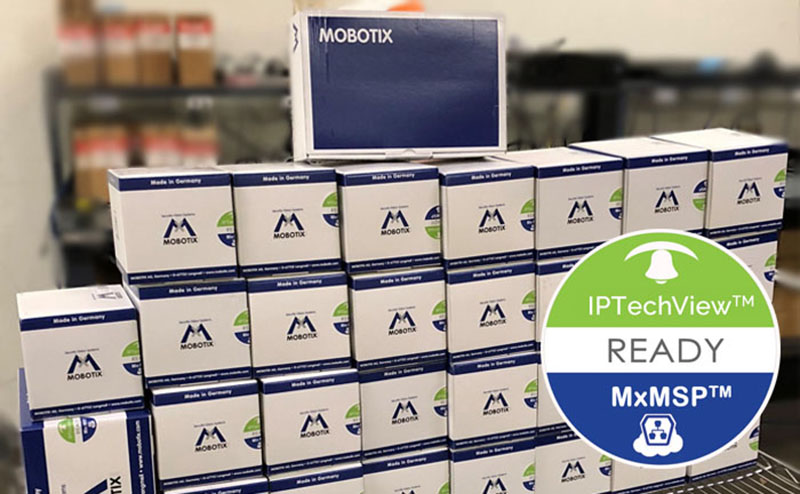 This means you have derisked your projects. If, after the initial install, you need to make any adjustments or if the customer changes the scope of the project, you don't have to go back for every small change but can make all these adjustments remotely. Let me repeat that: you do not have to visit the customer site to make changes! This not only reduces your install costs, but also the total cost of ownership for the customer and enables you to offer truly mission-critical solutions.
Knowing that your support team can manage any project anytime at a much lower and more controlled cost makes it easy for you to shift your business model to become more of a managed services provider and add a monthly recurring service package to all you projects.
IPTECHVIEW provides you branded service and uptime reports that you can automate to regularly educate your customers on what you are doing for them as well as support your monthly service billing.
Let's talk a bit more about security. IPTECHVIEW was created to enable offering services while enabling control over security and privacy. IPTECHVIEW can protect systems from being accessed by anyone other than those who should have access and enables privacy in a granular and timed manner by either the managed services partner or the end user, depending on project needs.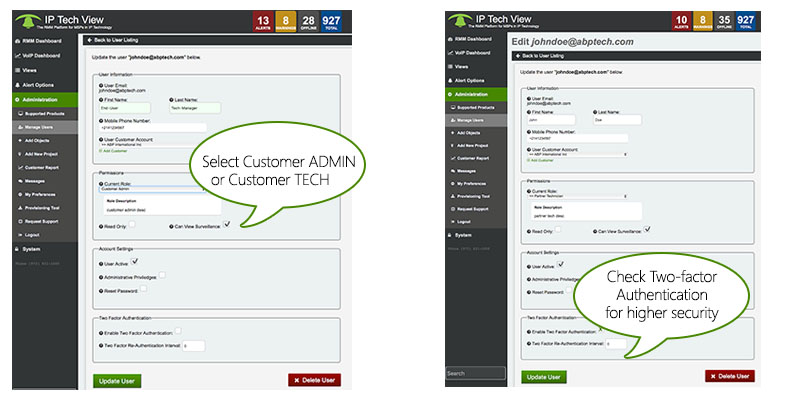 In the higher privacy/security scenarios, the end user can limit external access by the reseller and enable access to specific areas at any time when there is a problem to be fixed. IPTECHVIEW can provide both the reseller and end user with system health information at any time while also giving owners and managers the control to open and close their system privacy shield over parts or their complete system to their reseller/manger services partner. All data in the system is always encrypted during transport and all customer-specific data is encrypted with AES256 at rest. Both customer and reseller logins have two-factor authentication.
Remote configurations, firmware updates, password changes, security settings management, customer service, remote troubleshooting, and training can all be done in IPTechView!
Last but not least, IPTECHVIEW is ideal for larger multi-site customers that want to monitor, access, and/or control their systems. IPTECHVIEW can be set up for multi-site customers to be used by their own internal IT staff for monitoring and/or co-managing projects with you.
This short video features some great information on IPTechView and its benefits for Resellers and MSPs: https://m.youtube.com/watch?v=vDTpeoKiW-E
Improve your future - and increase your bottom line - by choosing to work with a future-oriented specialty distributor that can offer you an advantage with products like IPTECHVIEW as well as the capability to expand. If you are a reseller wanting to grow, call ABP Tech to discover how we help resellers that have typically only focused on one practice like phones, network, CCTV, or access control to become a multi-disciplinarian full service IP technology partner for their customers.
ABP provides training, pre and post-sales support, and can always offer you advanced remote support for your projects which helps you grow your technology practice.