The "Everything Switch:" PLANET's new GS-4210 Series
PLANET has brought to market a stable and reliable switch platform with the GS-4210 series switches. We like to refer to them as "The Everything Switch" since they are viable for a very wide variety of network applications. As managed switch cost have come down over time and the network speed and management requirements have increased, this series of switch is becoming increasingly popular.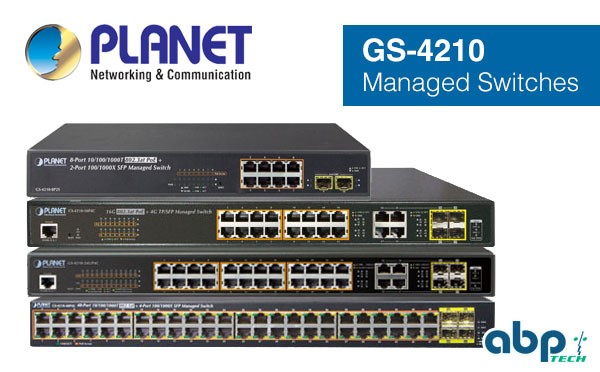 For those that are not familiar, PLANET Technology Corporation is a leading global provider of IP-based networking products and solutions for SMB, Enterprise, and SOHO markets with a strong mission to be a Pioneer of IP Innovation in the global market. All of PLANET's technologies and products are driven and delivered based on the concept of "Activating IP Power" to bring their customers the benefits of energy-savings, ease-of-installation, and budget friendly pricing. PLANET delivers professional and award-winning networking products and solutions while maintaining consistent commitment to their role of Global Corporate Citizenship. PLANET's vision of a Global Corporate Citizen entails placing priority over corporate governance, environmental protection, employee welfare and social responsibility.
The GS-4210 series switches are all managed and come in PoE and non-PoE varieties with port densities of 8, 16, 24, and 48 ports. These new generation of PLANET switches provide IPv6/IPv4 dual stack management and built-in L2/L4 Gigabit switching engines which provide a quick, safe and cost-effective network switching solutions for small businesses and enterprises and carry a 3-year manufacturer warranty.
The PoE versions are extremely versatile as all ports are rated for PoE+ (802.3at) and are backward compatible to the regular PoE standard (802.3af), allowing for a mix of endpoint devices, all receiving exactly the power required on any port from 0-30 Watts.
In addition to the standard network management features found on switches in the market, the GS-4210 series has these specific PoE management features: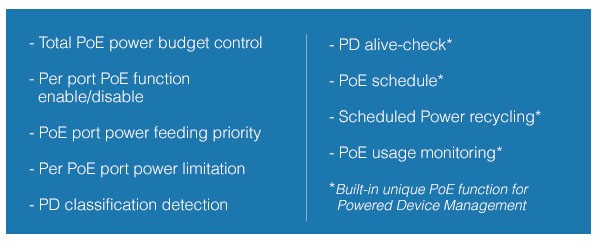 Another feature of this switch line is the additional connectivity ports on every model. The models offer Copper RJ45 1000 BaseT ports or SFP/GBic ports for switch interconnections and/or backhaul. PLANET even has 10G SFP/GBic ports in more sophisticated series units. The SFP/GBic ports support Multi-mode or Single-Mode fiber with LC connections.
The GS-4210 series can become the "Everything Switch" for your switching architecture. They are fully managed, feature rich, and well-priced which creates an outstanding value. This model series for intended for "normal" switching needs, however, PLANET does offer other devices for high temperature, outdoor, solar, high volume and 10G switching architectures as well in their complete portfolio.
As an IT Professional, this product line from PLANET allows you to build reliable networks and maintain profit margin in the hardware you provide your customers.