EnGenius' DuraFon Provides the Perfect Solution for Office-Premise Mobility
As a leader of Premises Mobility Communications, EnGenius' long-range cordless business phone systems and durable handsets deliver extremely wide-raching reliability outdoors, throughout multi-story buildings and in complex environments.  Quickly and easily deploy each system and connect users with valued features like push-to-talk broadcast and two-way intercom for instant communications.  
EnGenius' DuraFon cordless handsets are designed for those who work beyond the confines of a cube and need a little more freedom, like in hotels, resorts, schools, ranches, farms, hospitals, assisted living facilities, retail stores, car lots and large warehouses, just to name a few.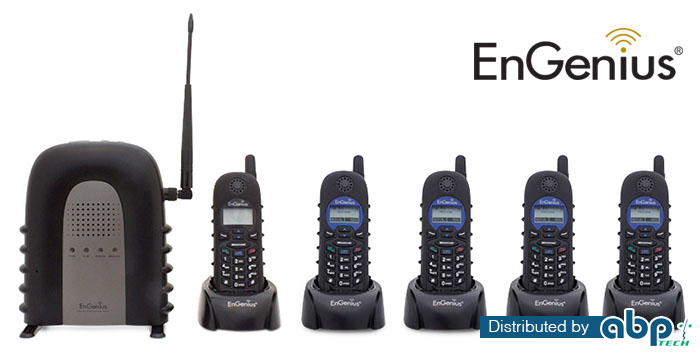 Product Highlights:
The DuraFon SIP is the first durable, long-range SIP cordless phone system.  This multimode communications system delivers industry-leading range and durability while providing significantly lower CAPEX and OPEX compared to other SIP cordless phone solutions.  It supports 10 handsets and 10 SIP accounts.  
The DuraFon SIP System delivers industry-leading range, durability, and reliability in a flexible, multi-mode communications platform that equips users with the lowest total cost of ownership (TCO) in the industry.  DuraFon SIP is ideal for companies with a new or existing IP PBX system or those using hosted VoIP that require dependable, long-range cordless calls over large areas or in harsh environments.  
Range up to 12 floors, 250,000 sq. ft. or 3,000 acres
Supports 10 SIP accounts
Base provides for up to four (4) concurrent calls
Works with any IP PBX with standard SIP protocol
Work Efficiently & Improve Customer Service (Large Premise Business Applications)
Large coverage area and handset durability allows employees to pick up their phone extensions or contact other staff internally through push-to-talk broadcast or two-way intercom, all while moving freely throughout the premises.  This ability promotes greater work efficiency and improved customer service.   
Improve Quality-Of-Care (Health Care Applications)
Long-range cordless phones with TAP capabilities integrate seamlesly with existing nurse call systems, giving staff text, paging, and voice communications in a single, ruggedized handset.  These features improve productivity, operating efficiencies and quality-of-care for patients and residents.