Digium's Latest Version of Unified Communications Platform, Switchvox 7, Now Available!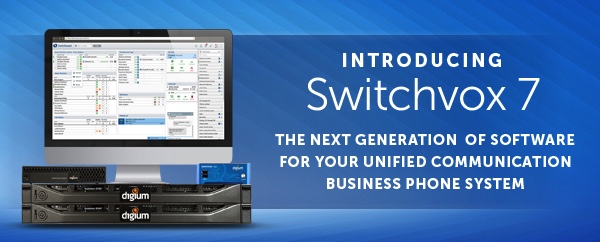 Switchvox 7 is the next generation of software for your Unified Communication Business phone system.
Here are some highlights of the new platform:
Expanded Switchvox Meet Me Conference functionality providing conference room administrators more transparency and additional tools for ensuring productive conference calls.

A new Conference Widget for Switchboard and the D80 IP phone that gives users access to visual conference controls on their desktop or D80 phone screen.

Music on Hold (MoH) can now be set for Meet Me conferences and simple conferences as well as parking lots, providing a more professional experience for your customers and staff.

Calls will never be missed with the all new Call Pickup feature, available to all D Series IP phones. This feature allows inbound calls to another extension to be monitored and answered by an authorized user from their own IP phone.

Updates to the Switchboard and administration GUI to display more useful system details.
​
The new Switchvox 7.0 takes full advantage of your server's 64-bit processor, which is great news for the performance of Switchvox. However, this means that upgrading to Switchvox version 7.0 requires some extra steps. In the past, updating to a new version was done from Switchvox's Updates page, using the Download and Apply tools. The migration to version 7.0 requires a full install of version 7.0, a multi-step process.
Switchvox 7.0 has been tested, confirmed to be fully supported and meets published performance/specification levels on supported Switchvox appliances. 
Full instructions can be found at https://support.digium.com/switchvox-7