Deploying MOBOTIX Solutions with MxMSP™
When you deploy new solutions with MxMSP you reduce your time working at the customer site because all items have been tested and preconfigured. This means all devices WILL connect to IPTechView's MxMSP™ platform as soon as they are plugged in and connected to the router. This will then provide you remote access and the ability to finish or maintain your configuration remotely!
Although you can preconfigure cameras yourself with our downloadable provisioning tool in MxMSP™, we recommend you purchase your MOBOTIX cameras pre-configured by ABP. This includes firmware updates where needed, pre-configuration, connecting the device to your account in MxMSP and basic QC. In addition to MOBOTIX cameras, ABP provides the same service with NAS storage units, some PoE switches, Draytek routers and Kentix Access Control. Other IoT or phone equipment may also be available for preconfiguration. (During BETA, this is only a $5 charge per device.) All preconfigured units will show up in your MxMSP account under your unassigned inventory. The ABP Sales order number will also be in the notes of each device so you can search for a device by order number.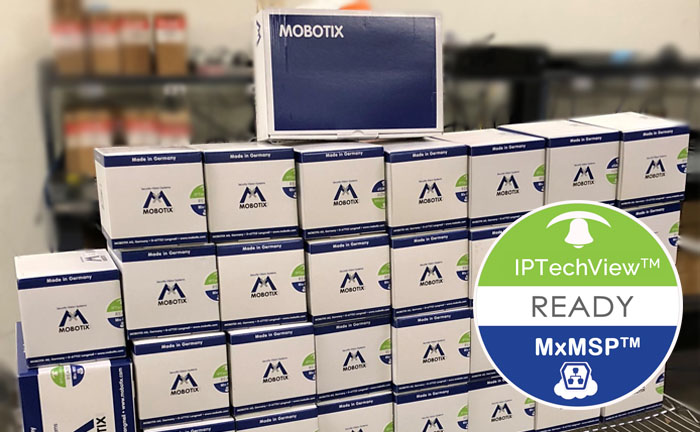 The first huge advantage of getting preconfigured equipment is that everything is tested to work. Each device will only ship after passing our auto-configuration and full-connectivity testing. This means that all preconfigured devices connected to the platform at ABP WILL connect to IPTechView™'s MxMSP™ platform as soon as they are plugged in and connected to a router with outside Internet access.
This means you can now simply request that we ship preconfigured equipment from ABP directly to your customer's location. Less shipping, less time handling equipment and everything should work out of the box! Once the equipment gets mounted and connected it will immediately report back to the platform and provide you access to complete all final configuration work remotely. You can use local non-MOBOTIX trained resources and leverage your trained MOBOTIX specialists to conduct a lot of their work remotely.
Over the platform - and remotely - your team can finetune the project, upload your prefered configuration templates, see video, ask the local install crew to make any minor position and focus adjustments and program any planned logic or business rules as well as do any other customizations.
Using MxMSP™ will save you a lot of time and money upfront and also derisk any project because you can always quickly get back to the equipment to make any needed adjustments or even get ABP, MOBOTIX or a third party to help you using temporary access to the platform.