Boost your business and home applications with SMS
SMS (Short Message Service), commonly referred to as "text messaging," is a service for sending short messages with a specified quantity of characters per packet to IP devices, including cellular phones, smartphones and PDAs.
SMS has achieved huge success in the wireless and wired world. Billions of SMS messages are sent every day and it is now a major revenue generator for wireless carriers. AT&T recently announced their plan to allow free Voice calls to any Carrier if you subscribe to their Unlimited Text Plan. (This is not an endorsement of AT&T, but merely an example). A lot of innovative applications are now built on top of the SMS technology and more are being developed.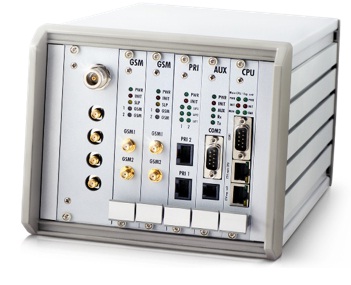 In order to send bulk SMS, ABP Technology offers a SMS Cellular Gateway that can be utilized for transmitting commands, alarms and data, etc., using SMS from even a non-IP device without using a cellular phone. Specifically, our GSM gateway is a device that offers SMS connectivity by either transforming messages to mobile network traffic or by allowing transmission or receipt of SMS messages without the use of a mobile phone.
A typical use of a gateway would be to forward simple email to a mobile phone recipient. It can also be useful in developing web applications that we can interact with a network of clients via SMS.
ABP Technology offers to best and latest innovation in this space. The 2N® Startgate & BlueTower SMS gateways are designed for sending and receiving SMS. They send SMS data from a name list to any GSM destination, which may be an individual number and/or group. All SMSs are securely backed-up and can be printed out, saved or deleted. Incoming messages are presented to the user graphically so that you can easily track your correspondence. You will be Alarmed when receiving a new SMS and if you have defined selected GSM numbers (VIP numbers), you are the only one that will receive that SMS from these destinations. When you have more than one GSM carrier, you can define your preferred Carrier. Additionally received or sent SMS message may be forwarded (passed) to another SMS client. You can write bulk or long SMS messages from a server comfortably and quickly using your keyboard. 2N® devices are Cisco and Elastix certified VoIP GSM gateways which are a perfect match for any SIP based IP PBX.
You can also use SMS for common applications to send or receive messages to:
- Notify status on your home's GSM enabled control systems. Let's say that you have a water leak in your home, then your control system can recognize the problem. The device can send a SMS to one or more GSM numbers with some alarm message.
- Turn on or off motor devices and control them remotely.
- Report problems on alarmed devices.
- Detect low levels of supplies on dispenser machines like food machines or even an ATM.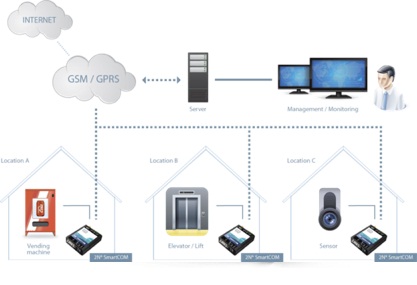 In all these cases you use a device that can detect the alarm and send the SMS using GSM.
2N® SmartCOM is an intelligent device that allows you to communicate and monitor your assets. Just connect it to a device, set the IP address for data delivery, and you can begin. 2N® SmartCOM uses GPRS technology for data transfer, and you can connect it to pretty much anything, such as meters, vending machines, elevators, etc. without the need to install any drivers, software/firmware or anything else.
Your ABP Team