ABP's Sennheiser Premium Product Portfolio
ABP's Sennheiser Premium Product Portfolio
This post is an extenstion of our newsletter introducing Sennheiser and will describe the different models, form factors and connectivity types of Sennheiser headsets ABP will offer in more depth:
Wired Headsets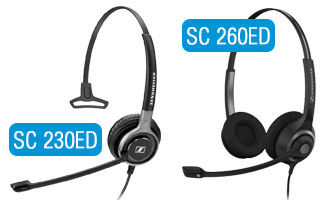 We offer traditional wired headset models in both single and dual ear forms. The Circle™ SC 230 ED (single-sided) and SC 260 ED (double-sided) are professional wired headsets that offer Sennheiser Voice Clarity, all-day comfort, robust quality, perfect fit, and noise-cancelling microphone.They feature metal reinforced headbands and all-around robust and durable design, these headsets were built to last. These models connect directly to your desk phone in most cases. ABP will have the correct cable to pair with these headsets to connect to the desk phone you are using. Sennheiser's Easy Disconnect plugs are ideal for contact centers and hot desking offices, where users frequently change shifts or switch between workstations. With their simple, quick release mechanism, durable Easy Disconnect plugs are designed to withstand the repetitive plugging and unplugging and provides walkaway convenience and allows the headset to detach while putting the call on hold.
ABP will also offer the SC 230 USB Ctrl II and SC 260 Ctrl II models that are wired USB headsets. These units have all the same features above but rather than Easy Disconnect cables, they feature USB port connectivity and an in-line Call Control module for volume and other actions. These units are perfect for UC platforms and softphone applications.
Wireless DECT Headsets
If you need to move around freely and stay connected to do your job well, these professional wireless headsets deliver it all. Iconic design, all-day comfort and legendary Sennheiser sound. ABP will be stocking 3 different DECT model headsets from Sennheiser.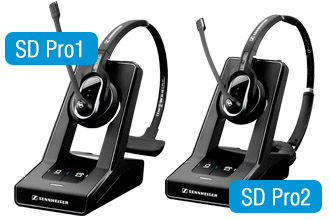 SD Pro 1 and SD Pro 2 are premium DECT wireless headset for desk phone and softphone.They feature Sennheiser HD sound and voice clarity, ultra noise-cancelling microphones and ActiveGard® hearing protection technology. The SD Pro 1 is a single ear design while the SD Pro 2 is the dual ear form factor. Walk and talk where you want with an extended wireless range. Experience quality sound on the move as you roam around the office. Wireless freedom extends your working range so you're always in contact with your phone. In a typical office building SD Office gives you a radius of up to 180 ft. and up to 590 ft. in line of sight. With the SD Pro series, you get 8 hours talk time in wideband and 12 hours in narrowband sound mode. This way you can work all day without unplanned interruptions.
The Sennheiser D-10 Phone is a streamlined single-sided wireless DECT headset connecting directly to the desk phone to provide uncompromising sound for office professionals. The D-10 Series comes with a 2-in-1 choice of wearing styles with single-sided headband and ear hook. All D-10 headsets fit in to - and can be paired with the same base station. Headsets are for either left or right wearing preference. Experience quality sound on the move as you roam around the office. Wireless freedom extends your working range so you're always within reach. Typical office building: up to 55 m. Line of sight: up to 180 m.
Wireless Bluetooth Headsets

MB Pro 1 UC and MB Pro 2 UC are premium Bluetooth® headsets for UC business professionals who demand wireless communication freedom, brilliant sound quality, and exceptional wearing comfort in a single or dual ear style. These units can pair with 2 devices simultaneously allowing for the user to accept calls from a mobile phone and their Bluetooth enabled desk phone or PC. The MB Pro comes with large leatherette ear-pads for a perfect fit and all-day wearing comfort and supports up to 15 hours talk time. Users can move about while wearing and using their MB Pro up to 25 meters from the source depending on the environment, all while enjoying Sennheiser HD sound quality with ultra noise cancelling technology.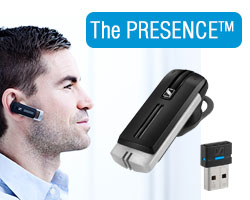 Another bluetooth headset option is the Sennheiser Presence. The PRESENCE™ is a premium Bluetooth® headset for mobile professionals demanding consistently clear communication around the office, in the car and outdoors. The device can pair with up to two devices simultaneously allowing you to seamlessly switch between softphone PC application or your bluetooth enabled desk phone and calls on your mobile device, effectively combining your in-office headset and your mobile headset. The Presence™ features SpeakFocus™ technology that focuses on your voice to deliver crystal clear sound, making it easy for listeners to hear what you're saying - even in noisy office environments or above the road noise when you are on the go. Another inventive feature is Sennheiser's WindSafe™ technology that electronically reduces wind noise to ensure the clearest possible sound is sent to your listener - and that your answers aren't left blowing in the wind. The Presence™ delivers up to 10 hours' call time between charges with hearing protection though ActiveGard® technology that protects you from acoustic shock and sudden sound bursts, all while delivering Sennheiser HD sound. The Presence™ is packaged in a small mobile case perfect for traveling that includes a USB Bluetooth dongle. The dongle effectively enables most any PC, laptop, or tablet with bluetooth functionality and makes pairing the device a snap.
Speakerphone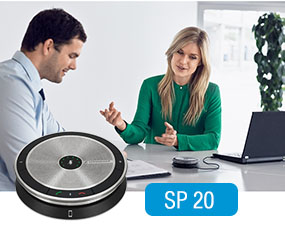 Sennheiser SP 20 is a premium portable speakerphone designed for mobile business professionals for both personal and small group conferences on PC/softphone and mobile phone or tablet. SP 20 connects directly to PC/softphone and mobile phone or tablet. With the SP 20 you can merge PC/softphone and mobile calls into one conference, allowing you to add participants to the conference call via both PC/softphone and mobile phone at the same time. The unit features Sennheiser HD sound, echo cancellation and dual talk function ensure a cleaner sound and a more natural conversation flow. No more searching for an available conference room. Set up an impromptu conference or share a call with high quality sound - in any room.
Please contact your ABP representative by calling 972-831-1600 x3 or email sales@abptech.com for more details about the Sennheiser product line.