IP Surveillance is in transition. Ring and others are consumerizing the market at record speed and setting a new level of expectations. To thrive in this new world, commercial and professional systems will need to offer the same easy access, ease of use, and have an even stronger feature-set that applies to the specific needs of the commercial customer with more security, better integration and a better level of service.

Today, customers have the option to go cookie-cutter with a generic video surveillance solution from an alarm company or choose a more customizable commercial grade solution. The key distinction will be that in the latter, you as the integrator and your future service level are an integral part of the solution the customer buys. Your customer chooses between a commodity service or a technology partner to service and adapt adapting the solution to the company's changing needs, work flow, and IoT integration (i.e., access control, environmental and overall security needs).
The great news is that as an ABP Technology partner you can excel on both fronts. In this newsletter you will discover how our new professional cloud services platform will put you on the leading edge, help you reduce your installation cost, offer better solutions and services and make your surveillance solutions easily integrate to fit the customer work flow. Our team is here to train and support you to become your customer's trusted technology partner.

Introducing MxMSP™ - the Ever-expanding Cloud Toolbox for the MOBOTIX Ecosystem
What if we built a tool to reconfigure all IP technology products we sell to provide our distributors with a cloud-based platform to securely and remotely monitor, configure and manage all IP Technology devices? We did! For MOBOTIX!

Change your Practice From "Break Fix" to Preventative Maintenance
Waiting for customers to experience a problem - or a break - and being on call to "fix" it is an outdated business model that has you dependent on things going wrong to earn income. By incorporating "planned preventative maintenance" into your practice, you can provide routine services and charge and receive recurring monthly revenue.
An additional income stream that you can rely on monthly - as well as the ability to remotely monitor and manage customer projects - is a win-win for you and your customers. MxMSP was created to help integrators manage MOBOTIX camera deployments. Most services can be performed without having to physically visit a customer's site (a time saver that results in additional cost saving, as well). Plus, with MxLINQ, you can offer your customers the ability to view their own cameras from the device of their choice.
Read more about how you can move from "Break Fix" to Preventative Maintenance and boost the bottom line with MxMSP™.

Take MOBOTIX into the Cloud with a Full Range of Cloud Storage Options

MxMSP CSA™ offers recording on a per camera selection with retention times from 24 hours to 3 years with full video including sound or image only (depending on local legal regulatory statues). In addition to video cameras, the solution can also be set to just record single images in the cloud via a bandwidth and storage saving mode that still provides some external recording for forensic purposes. Last, but not least, all cameras can provide a time lapse from every 5 minutes to 24 hours.


Looking to make extra money on your next install?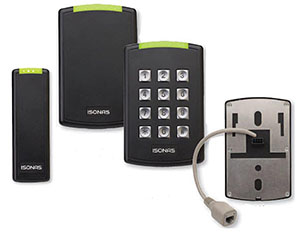 How about expanding into the world of access control and earning RMR from the easiest and most user-friendly, cloud-based access control? With ISONAS's true edge IP access control system you can do just that. ISONAS makes all-in-one access control readers that simply need PoE run to the door. You can power the door strike right from the reader with the supplied PoE, thereby simplifying the cable runs and reducing install time. Once you install an ISONAS access control system, you'll never want to do access control the old way again.
Order your RC-04 demo system to be able to show your customers just how easy it is to use the ISONAS access control system. They can use traditional access cards, a pin number, or credentials on their smart phone and never have to worry about lost access cards again. You can also use the demo system to get ISONAS certified via their website and the demo kit.
By getting the Integrator License for the Pure Access Cloud platform you are in charge of their hosted access system and can earn RMR off of your customer's access control systems.
Reach out today to learn more about the power of ISONAS and how you can earn RMR from your access control projects!

Free Integrated MOBOTIX Video and Kentix Access Control, Intrusion, and Environmental Monitoring
One of the most common requests from an end-user is to integrate their access control and video security together. Imagine your customer pulling up a web page to do a history report of their access control and having a video clip next to each card event. We believe this is what most customers truly want. What if this required no servers, no software, and no cost besides just a few minutes of one-time programming? How does this compare to what you were thinking about a few minutes ago? Now with Kentix and MOBOTIX together you have that option.


Introducing MOBOTIX NAS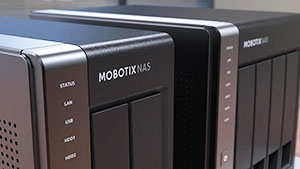 MOBOTIX is expanding its product range once again - offering three high-quality NAS devices with different capacities for perfect integration into MxMC 2.0, the most powerful and flexible MOBOTIX VMS solution. Through the MOBOTIX VMS (MxMC 2.0 or higher), the user can playback all recording of the MxNAS including the ONVIF-S footage. An additional advantage for decentralized MOBOTIX IoT video systems with data storage on the SD card inside the camera is that they can enjoy the additional security advantages of the MxFFS storage solution with buffered archive with MOBOTIX.


Introducing the New IPTechView™/MxMSP™-Ready PoE Switch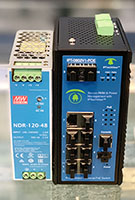 This 8-port device is a unique remotely controllable, ruggedized industrial switch. It's IPTechView™/MxMSP™-Ready which means integrators using these platforms as element management and remote monitoring system can fully monitor this PoE switch including wattage used per port, see device types and MAC connected on each port, as well as remotely power cycle individual ports in the platform.

Contact us for more details by calling 972-831-1600 or sales@abptech.com.