IP surveillance and access control are constantly evolving. In this edition we will discuss key advantages and why MOBOTIX is the best camera solution for you to combine with your own add-on services as well as for Cloud and IoT integration.
:: Summary of MOBOTIX Partner Summit Americas 2018::
Mx-MSP™'s First Public Unveiling in the US
As some of you may know a few years back ABP decided to invest in a special project to develop a unique platform for our partners called IPTechView™. The goal was to provide ABP partners with tools to compete better in the market, lower their costs during installations, offer secure remote maintenance, and have access to predictive analysis of Telemetric Health Parameters on all IP Technology products they sold. They would use the tool to gradually move their own business into the realm of what we call an "IP Technology Partner™" - a specialist for IP Technology Solutions that provides this service combined with their own Managed Services.

After the acquisition by Konica-Minolta, MOBOTIX opened up a lot more to technical collaboration. That is when our IPTechView™ team finalized a special version of IPTechView™ for MOBOTIX Partners called Mx-MSP™ - the Managed Services Platform for MOBOTIX was created.
Mx-MSP™ was first shown in Germany in November 2017. Since then it has been in a controlled BETA environment. With close to 1000 cameras, 50 BETA users in 130 locations and after 9 months of testing and improvements on partner suggestions, we are now ready with our first release candidate. As a courtesy to all of our MOBOTIX partners, we decided to extend the benefits of the BETA program to all partners. But hurry to be included as BETA sign-up ends July 9, 2018.

Mx6 Line with MxBus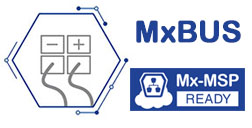 MOBOTIX is getting ready to start shipping the new Mx6 "B" for Bus cameras. The new cameras now include the MxBus that had to be sacrificed in the first edition due to space requirements.
The MxBuS, along with MxPEG, makes MOBOTIX cameras superior and a true IoT platform. Read more about how much can be done with how little, using MOBOTIX in our blog "MxBUS makes creating your security system a snap".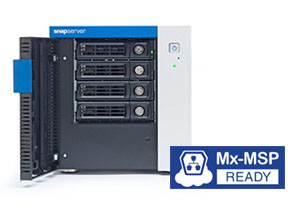 Overland Video Storage Fully Compatible with Mx-MSP™
Overland has proven to be a highly reliable storage solution for MOBOTIX partners for many years and the most sold storage solution by ABP's MOBOTIX Integrators.
When the Overland management team learned about our vision to give Integrators a universal tool to securely and remotely configure and maintain all their cameras, storage units, routers and switches, they immediately saw the value for integration partners building their managed services practice and fully supported us. Today, Overland units provide secure Telemetry data on all critical health parameters to Mx-MSP™ and the platform provides secure VPN-based access for full management without the need for any port forwarding on routers. Read more on how Overland works with Mx-MSP™.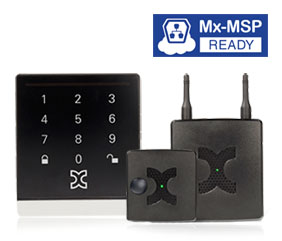 ABP's Star Product for IoT & Access Control
When ABP discovered MOBOTIX in 2005 we knew we had found a special product. Now with Kentix, we feel that way once more all over again. For starters it fits the decentralized model, integrates natively with Mobotix cameras, and offers partners two unique solutions to sell and enables a Managed Services or what we call IPTSaaS (IP Technology Solutions as a Service) model.
As mentioned before, Kentix offers TWO unique solutions. First, Kentix offers a decentralized access control solution which is comprised of IP & PoE to the door logs and notifications with MOBOTIX video when MOBOTIX cameras are available.
Second, Kentix is known for its Environmental Sensors.Just like cameras provide a view to physically protect a space, Kentix provides Environmental Sensoric data like temperature, gases (Co2, CO), passive infrared detection, early fire risc warnings, vibration, due point, water leakage sensors, and etc. to protect critical assets, spaces, and infrastructure.
Imagine how Kentix can provide more way more value than cameras in dark spaces or infrequently visited areas like machine rooms, storage spaces, vaults, refrigerators, cellar and attic spaces. The best is that Kentix alarms when detecting presence or alarms can virtually pull video from the closest MOBOTIX camera and provide the last video events along with Kentix alarm notifications.
Interested? We suggest getting the ABP Kentix NFR Bundle. It includes a highly discounted Starter Kit, a free training webinar, a remote 1 to 1 post training and initial free support on the Starter Kit. Our goal is prepare you for your first Kentix deployments ASAP.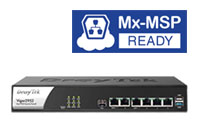 Routers & Poe Switches
We believe our integrators need to be their customers' all-around "IP Technology Partner™". Therefore, in addition to VoIP and our Physical Security/Surveillance, ABP has a practice specializing on routers and switches.
DrayTek offers a fantastic line of value business routers and Managed PoE switches with similar features and performance as mainstream enterprise networking equipment manufacturers. Networking does not have to be complicated and DrayTek makes it easy with friendly GUI and centralized/cloud management and monitoring. DrayTek is integrated with Mx-MSP™ which enables resellers to monitor and fully manage their DrayTek routers and switches.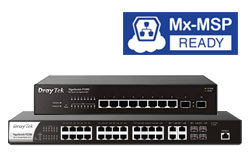 Before Mx-MSP™ it was invaluable for our integrator to also sell the router so he could do any port-forwards needed. Now with Mx-MSP™ resellers can also monitor and fully manage their Draytek routers and switches.
DrayTek switches are great for IP cameras since they can be configured over the router which makes VLAN configuration a snap. DrayTek routers will soon also provide the health parameters and power consumption levels to Mx-MSP™, giving us one more element that we can proactively monitor and even get predictive data to give customers the highest possible uptime SLAs (Service Level Agreement).


We have 2 MOBOTIX related events coming up in the next couple of months. Please mark your calendars and stay tuned for more details.