IP surveillance and access control are constantly evolving. That's part of the beauty of our passion (technology, that is). It's fascinating to see improving products, processes and so on. But it can also make working in the world of technology extremely challenging, as you know all too well. This is why ABP has put together this Surveillance Newsletter, to keep you up to date on some of the most exciting trends we've seen in the industry. Read on to check out the latest Surveillance trends with ABP!
:: Vendor Announcement and News ::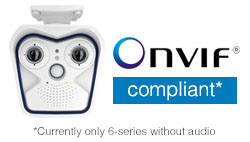 MOBOTIX and Advancing ONVIF S Compliance
The release of the 6-series hardware has made it simple connecting the MOBOTIX platform to existing NVR systems using H.264 and ONVIF-S protocols. Currently, the 6-series hardware without audio is listed as compliant, but by summer we expect to see the full range of 6-series devices, with and without audio, listed as compliant. This feature will make adding the powerful functions of MOBOTIX easy without complicating the end-user experience.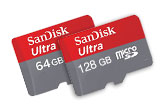 MxFFS with SD Card Failover!
Starting in firmware version 5.1.0.X the MxFFS will finally give users the option of placing a NAS as the primary storage target and using the SD card for a failover device to buffer until communications is restored. This feature will allow for a level of redundancy to be added to existing systems that have a NAS on site without additional cost or hardware.
Mx-MSP by IPTechView Now Offers MX-Recording Guard
Many times the camera is up and everyone thinks it is recording. However, when it's time to look for past events or clips, surprise and despair arises..."Oh no!! The camera was not recording!". Don't let this happen to you. There are many scenarios where the camera would silently stop recording or lose events including NAS issues, disks or flash SD cards going bad, network issues, authentication issues, or simply camera misconfiguration. MX-Recording Guard detects this and sends a straight-forward, easy- to-read notification alerting you when the problem started and sometimes even before it starts. MX-Recording Guard is always monitoring, and in addition to presenting the big "Recording Fail" notification, it's also presenting key statistics like Flash Wear, oldest and newest recording clip, storage space in use, and etc. MX-Recording Guard adds an extra level of robustness to the MOBOTIX solution.
Mx-MSP™ Made its Debut at the MOBOTIX booth at ISC West 2018
The ABP Team was proud to be at ISC West 2018 in the MOBOTIX booth next to Genetec and other Technology Alliance Partners MOBOTIX selected for this year's show. Mx-MSP™ is our new Managed Platform for MOBOTIX camera deployment that provides integrated and secure remote access, monitoring and management of all their projects.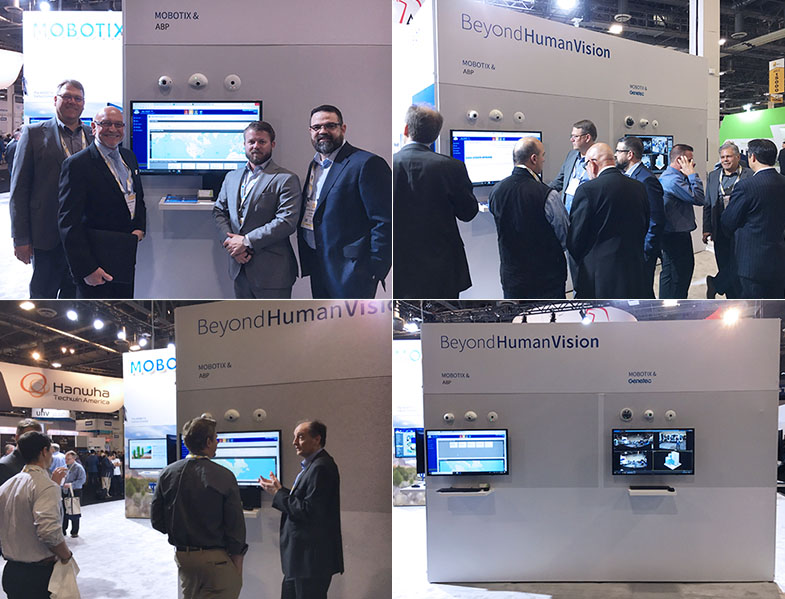 Ah and One More Thing...
We crammed real hard and finished the first version of our new Mx-Linq™ App for MOBOTIX partners that are using Mx-MSP™. Mx-Linq™ is the new companion app that MOBOTIX partners can offer their customers so they can see all their cameras in action.

MOBOTIX Events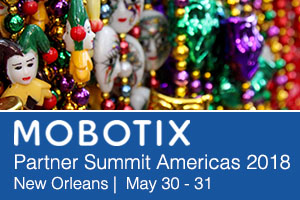 MOBOTIX Vision Partner Summit for the Americas will be held in New Orleans, LA on May 30-31, 2018. Join MOBOTIX and their partner community to gain an exclusive look at their new company strategy and exciting trends such as cyber security and technology partnerships that are energizing the market. Seats are limited.

Be sure to register by May 18, 2018.

Security Cameras: A World without Wires
Before IP video-surveillance became more mainstream, the use of wireless transmission technology was uncommon in video-surveillance projects. As soon as IP technology got traction in the video-surveillance industry; Industry professionals started to seriously look at wireless technologies as a viable transmission alternative, especially because of trenching and wiring expenses.
Wouldn't it be great to live in a world without wires? With the current pace at which technology is advancing, wireless connectivity is becoming more popular.
InfiNet Wireless has been active in this arena for many years now and has already supplied reliable video surveillance solutions to all corners of the world. In addition to providing reliable transport solutions for video streams to public safety operators, InfiNet Wireless systems have also deployed in many other applications such as traffic light monitoring, highway safety, number plate recognition and road traffic management.
All InfiNet Wireless solutions come with a number of powerful features that significantly enhance performance and reliability, such as unconditional media-applications traffic (VoIP, video, etc), prioritization of data types and flexible QoS management.

We understand your IP Video Surveillance Security problems! Read more about using Infinet Wireless for video surveillance applications.

New Overland Units - Pre-configured for Mx-MSP™ and with GuardianOS 7.7
Looking for an interesting MOBOTIX / Overland NAS bundle this Spring? ABP and MOBOTIX have worked together with Overland Tandberg to make an even better solution.
ABP now has SKUs for Overland units that are Mx-MSP Ready™. These plug & play storage units are already available for our BETA partners. Overland has a full native integration into Mx-MSP™/PTechView™ platform and is enabled for secure remote monitoring & management with Mx-MSP. Overland SnapServers report system health parameters including Storage Status, CPU & Memory load, temperature and disc errors. Overland by itself is the most stable storage platform we have found but now with Mx-MSP™ you get predictive warnings on potential failures based on errors and system health data processed by Mx-MSP™ and sent to you via highly configurable personalized alerting and warning profiles.


Free Integrated MOBOTIX Video and Kentix Access Control, Intrusion, and Environmental Monitoring
ISC West was a great showing of ABP's new Mx-MSP™ cloud platform; however, in addition to cameras and Overland NAS, we also integrated Kentix into the platform for our Security Integrators. Kentix already is integrated with MOBOTIX. To give our partners a sneak preview, we even snuck in an entire access control system in our laptop bag and the feedback was amazing for it! Read how you can integrate MOBOTIX cameras and Kentix access control without any additional costs or hardware.
If you're interested, consider buying a starter set to try out Kentix for yourself. We created a special NFR package to make it easy and affordable for you to become a Kentix expert! Get Partner Demo-NFR unit here.


ISONAS: How to Make Big Money Doing your First Access Control Project
Have you passed up access control opportunities because it was outside your comfort zone of job scope? Well, that stops now!
ISONAS is an easy to install Access Control system, making access control easy for those who might be a little intimidated by all the wiring, excess cost and logistics of putting in a traditional access control system. The controller resides in the reader itself and powers via PoE. This means no cabinets in a wiring closet to run all the connections to all the doors. The reader has all those connections so the install is easier and takes a lot less time. Some integrators have reported saving 66% in labor install time keeping your installers productive and earning you higher margin.
Call your ABP rep @ 972-831-1600 x3 and ask about how ISONAS can make your access control projects profitable and easy! If you'd like a little more reading material on ISONAS, check out their two sections in our past newsletter.


DrayTek: Great Surveillance Starts with a Great Network
How many times have you struggled with your customer's consumer routers only to end up frustrated with the limited feature set and clunky GUIs? How about when you wished for a surveillance VLAN that would separate your cameras from the rest of the network, so nobody could mess with your installation - but your customer's router refused to cooperate?
DrayTek makes it extremely simple to setup a streamlined network that would be the perfect building block for your surveillance solutions. With an intuitive GUI and easy setup wizards, they require no formal training or specialized technicians to install.
One of the best VPN routers in the market according to Network World, DrayTek lets you easily dial-in and connect to your cameras without messy port-forwarding to set up. What's more they now offer a free VPN dial-up tool for use on Windows and Mac OS as well as IPhones and Android phones; so you can easily connect to your cameras on the go. And with 4G LTE backup in case of network failures, you never have to worry about losing access to your cameras.
All these features are built-in on DrayTek routers, without any hidden costs or complex licensing making them the perfect routers for any surveillance project. If you're interested in hearing more about how DrayTek can take your surveillance efforts to the next level.