ISONAS/Milestone Integration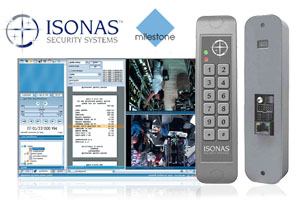 When a business has both Access Control and Video Surveillance as many do, it can be advantageous to integrate them together. ISONAS has developed deep integration with Milestone. Some of the things that can be done with this integration are:
Card Access ("C/A") alarms will appear in the Smart Client's Alarm Manager. The C/A events will be searchable and the video associated with these door / card reader events will appear in the Alarm Manager's video pane. Card Access Events can trigger Virtual Matrix Windows in the Smart Client. The Milestone Rules Wizard can move PTZ cameras, speed up recording, push video etc. based on C/A events. The Smart Client can use overlay buttons to send commands to the Card Access system. ISONAS has created a video showing how this all works.

ISONAS / Suprema Biometric Integration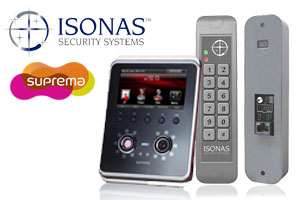 ISONAS PoE to the door card readers are easy to install and make a very good Card Access System. Sometimes though, you may have a door or two that you would like to have Suprema Fingerprint or Facial Biometric readers.
The combination of ISONAS PowerNet™ Reader-controllers and biometric recognition devices provides the superior capabilities of standards- based, IP-at-the-door Access Control and the advanced identification features provided by biometric recognition technologies.
Both the biometric reader and the ISONAS PowerNet Reader-controller are located at the door location. Sometimes, for operational purposes, the users are directed to only use the Fingerprint reader. In these cases, the ISONAS PowerNet acts as the door's controller and may be mounted in a location that is not accessible to the user, such as inside the facility, if so desired.
Raytec IR and White Light Illuminators - Light Matters

When recording video in a Surveillance Environment, Low Light can cause a lot of noise in the footage resulting in false alarms and increased bandwidth usage. You can of course add either IR or White Light to counteract this. Raytec VARIO has a unique range of features that help deliver enhanced even illumination and the very best night-time images. They are small and lightweight, use little power and have a 5 year warranty. However our favorite feature is that they use interchangeable lenses which allows you to have the same angle of light as you do for the camera lens you are using. They ship with 10, 35, and 60 degree lenses with 80 and 120 degree optional. By using these you can save money on bandwidth and storage as well as allow for quicker video review as you no longer need to sift through false alarms.