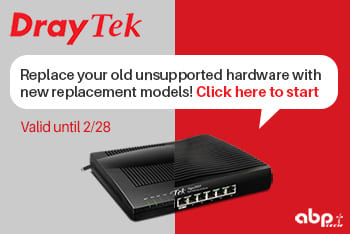 DrayTek is a state-of-the-art networking & telecommunications equipment manufacturer. DrayTek's flagship solutions include next generation multi-WAN business routers, data center load balancing, VPN and UTM & firewall products.
DrayTek's Vigor product line ranges from cost effective feature rich SoHo routers to super fast VPN concentrators and superior routers for Medium and Large Enterprises.
DrayTek routers incorporate common features such as NAT, DHCP server, Access control, DMZ, DNS forward, SNMP, etc. In addition to that, some of the supported technologies that portray DrayTek as the new strong brand for next generation business routers are:
Dual and multi-WAN Load Balancing and Failover
Bandwidth Management and Quality of Service
Content Security Management and Web Content Filter
Stateful Packet Inspection firewall
Multi VLAN
VPN LAN-to-LAN and PC-to-LAN
WiFi 802.11n with multiple SSID and rate control
IPv6
DrayTek emphasizes on building a long-term relationship with channel partners, System integrators (SIs), value-added resellers (VARs) and ISPs. DrayTek ensure partners can earn healthy margins by keepking DrayTek products in the Professional and Prosumer channel, not targeting retail or commodity markets and actively managing the channels, DrayTek product is sold over knowledgeable data resellers that can offer technical support to their customers. 
Click HERE to access live product web demo
More Information about product lines: