Working remotely has brought on a new dynamic which is changing both you and your customers' operations - while also offering new opportunities! With that in mind, let me introduce a new super relevant service that we are bringing to the table that will elevate ABP's services from Safe & Easy ZTP all the way to Securely and Easily Monitoring and Supporting everything you sell! Today we want to give you a sneak preview on the Super Powers of IPTECHVIEW.

Our business is based on partners like you and our first mandate is to help you. Six years ago we decided to build a platform - IPTechView - to help ABP Partners sell more maintenance-related services along with the solutions you sell and help you reduce your installation costs.
We created IPTECHVIEW - a secure cloud-based, remote access, monitoring, and maintenance platform - to enable you to provide secure and fast service on many items in our main product portfolio. IPTECHVIEW was designed specifically to help you reduce installation and configuration costs and allow you to service customers without the need to physically travel to customer sites.
Even better, we now offer a RAMP program, the option to order pre-configured equipment connected to IPTECHVIEW so it can be installed and connected immediately on site and all fine tuning and setup can be done remotely. Your team can securely and remotely access and monitor system health and manage all of your multi-vendor devices - routers, switches, PBXs, IP phones, wireless, IP cameras, access control, IoT, and much more. Stay tuned to learn more about IPTECHVIEW.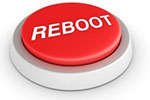 Remote Management is great, but how about a crashed system or a Firmware upgrade that requires a reboot? We got you covered. IPTECHVIEW can control Remote Reboot on many of ABP's POE switches even when behind a firewall so you no longer need to go back and ask a customer to unplug individual pieces of hardware. Rolling a truck (not required).
It's as easy as loading your DrayTek switches onto the IPTECHVIEW platform and from there, select what devices need a quick reboot and you're able to continue without skipping a beat. Fast and simple is the way we like it and the way it should be.


Connect Your Phone from Anywhere!
Given the pandemic and the increase in communications, how are your customer's phones staying connected? The last thing you want to happen is for phones to go offline or reprovision during an important sales call. No longer do you have to access local routers or deploy a physical SBC at each site for customers. For all practical purposes, port forwarding or complex solutions are not only a headache waiting to happen but also can be quite expensive. With NATPass as a Service we remove all of the guesswork as to whether the phones are connected or not. Plus, you're able to bill for the service in a simple and easy-to-understand way. All we need is to know is how many phones and what PBX you're pointing them to and you can enjoy a NATPass for each one of your customer's phone systems. It's as easy as that. This also means that you can already have phones pointed to the customer's PBX via NATPASS before it arrives onsite at their remote working location (no need for configuring phones at the customer's site). Their users will also be able to start making calls out of the box which is a win-win situation for everyone. ZERO downtime! That's what it's all about with NATPass..
Take it for a 15-day FREE trial directly in your ABP Partner Portal here.
For information on pricing, please reach out to our ABP Sales Team at sales@abptech.com or 972-831-1600, option 3.


Unified Communications for Hotels, MTU/MDU, or Campus Environments with Analog Phones
As the world shifts to ALL-IP communications, how can hotels, hospitals, apartment-buildings, schools, and other large facilities and campuses quickly be converted to IP or Cloud PBX systems without breaking integrated processes or tossing out specialized and functioning phones? A related question is this: Why would an organization switch to IP Telephony, when it owns a plethora of bought-and-paid-for end points - and a traditional PBX - already integrated with business operations that works? The solution to both is to use a VoIP gateway like the new SmartNode 4740 from Patton.


Who Would've Thunk? DECT as an Option
It's time to invest in DECT phone technology. DECT cordless phones give everyone more freedom to move around farther and longer - be it a warehouse, hospital, office floor, or even home, and have an AWESOME connection. Great range and long battery life are key features of DECT cordless phones. Plus, for employees working from home, businesses can offer them more range and a better alternative than using a cell phone to conduct business and can track call usage for accountability.





bvoip Partner Store - Now Open

The bvoip Partner Store now officially open to North America partners! After a long wait, the new BVoIP store powered by ABP Tech is now taking orders - just in time for the second half of the year. Placing orders has never been easier and now you can even order outside normal business hours and on the weekends. This new store solidifies bvoip's platform as a true one-stop shop and go-to within the UCaaS space. Don't fret Canadian partners, we haven't forgotten about you either. Stay tuned! Check out the store.

Come to the Cloud

What do you need? A single portal to Provision, Manage, Monitor, Secure, Alert, Troubleshoot, Analyze and Optimize CPE Devices, Licenses and Value Added Services. By replacing costly NMS, EMS, alarming, monitoring, and troubleshooting systems with a comprehensive, virtualized solution, the Patton Cloud lowers capital expenses and operational overhead otherwise incurred when rolling out and running an All-IP communications or UCaaS (Unified Communications as a Service) offering. Read more.

FREE 90-day trial! Sign up now to request your free trial of the Patton Cloud Professional Edition.




Fanvil Demo Kit Program

*EXTENDED* - From now until March 31, 2021, you can purchase a bundle of an X4U + X6U for $125 (MSRP $331) and/or the X5U + X3U bundle for $95 (MSRP $256).

*NEW* - From October 1, 2020 - March 31, 2021, you can purchase the X7A + i10V bundle for $199 (MSRP $428) and PA2 + i16V bundle for $299 (MSRP $518)




Expanding our Reach with Sangoma!

We would like to announce that we are now able to offer the full suite of Sangoma products - which ranges from PBXs to phones - with the new distribution agreement in place. If you're interested in becoming a Sangoma partner through ABP, please fill out the form here.




Epygi Trade-in

Trade in your discontinued Epygi Quadro for the newest QX product line and get the following benefits: 1) Get all Quadro equivalent license keys transferred to QX for FREE. 2) Get the Quadro to QX configuration conversion service for FREE. 3) Get a total of 4 FREE eQALL softphone license keys for the QX device. 4) Get a FREE IPTechView license for 1 year. Offer is valid from now until December 1, 2020.

Secure Remote Access You Need and Want!

Without adequate remote oversight, system outages and productivity loss is inevitable. Network security and operational integrity require remote monitoring and management of device health and network traffic. Discover how the IPT Security Gateway can connect and manage ANY and ALL your IP devices remotely and securely.