The Future of Selling Communications
For the last six years, we have seen significant commoditization in the IP communications space and decided to take a stance by becoming even more selective - providing only the products and solutions that we believe enable you to provide the most value to your customer.
Another trend you will see at ABP starting from now on is growing compatibility with our IPTechView platform. We believe our new platform can save you a lot of time and cost. You get pre-configured devices, QC, and optionally your products can ship pre-enabled for IPTechView - our secure system health, remote configuration, and management platform.
Our solutions are aligned with the trend to evolve the Tech Partner's business model and promote services delivered by you that generate recurring revenue.


Zero Touch Provisioning - Ahhh...A Breath of Fresh Air

Be honestl... who really wants to provision phones? No one, really, but things have evolved in the arena of phone provisioning with vendor-based RDS and RPS servers. Today we have a vastly improved system. Wouldn't it be much easier if you could provision all of your phones in one easy-to-manage portal without having to remember several passwords and procedures for each individual provisioning server? What if our system did it for you? Zero Touch Provisioning does just that.


DrayTek Routers QoS, Multi-WAN + LTE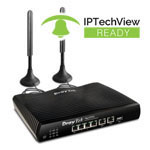 Most of our resellers become their customer's technology partner and this becomes a long-term role. The best way to control the quality of service is to deploy a router with true VoIP QoS. DrayTek routers do this well and also offer uniquely secure remote management capabilities.
How about redundancy? DrayTek's small business flagship - the Vigor 2926L - offers two wired WANs and one LTE WAN. Many of our customers tell us stories of how their customers have been running their entire company for days on their LTE connection alone and didn't even notice.

New DrayTek PoE Switches Now with Secure Cloud Management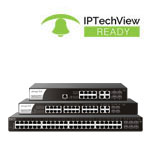 Imagine having full control over power cycling of all PoE ports and fully managing your customers' wireless APs. DrayTek offers a full ecosystem for that and we integrated the full power of the platform. Today you can optionally sell switches pre-configured as IPTechView™-Ready with full secure remote management . Take some time to discuss this with one of our specialists. You will be amazed at the time savings this can represent for you.


Fanvil Phones - Discover Their Unique Selling Points
Fanvil offers a full line of phones that starts with its unique Texas-sized phone with integrated large color LCD HUD/BLF and different models based on line sizes down to a simple two-line utility phone. Everything - an elegant clean look and design, an expected lifetime in excess of five years, and QoS monitoring in the phone to alert you if your customer is having any problems - all at a great price point! Check out Fanvil's newest phones, the X7/X7C and X210. Fanvil Phones offer real-time QoS monitoring in IPTechView.


3CX and Patton: A Dynamic Duo
Why do we still need gateways in the era of SIP trunks? We often see scenarios in rural areas or locations where enough bandwidth is not available for a call center but T1s are cheap and available. Many times there are situations that require interfacing with legacy equipment. The reality is that today there is still a growing need for a rock-solid gateway. Patton's gateway product line does just that for 3CX solutions.
Plan to come to our 3CX Advanced Training in Orange County, CA on October 10-11, 2019! More details to come soon.

Snom Phones - A Reliable and Durable Standard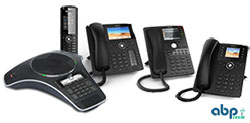 Customers have different tastes and needs. Discover our very first IP phone - the snom phone. We actually helped shape the SIP Stack back in the days when the Internet Taskforce was still active in defining the role of SIP in the communications space.
Snom phones have always been at the heart of our testing since they have a robust stack and great debugging tools. Today, they are also priced well and offer durable devices with unique phones, particularly in the DECT world of wireless handsets.
Join us at our Snom Topgolf Social in Fort Worth to discover more!


Let Colleagues Know When Not to 'Disturb'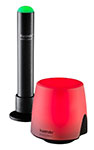 kuando "Busy Lamps" give you an edge with your customers. When you are the first to propose something unique and new that will help your customer and adds value - you will have an edge. kuando will add value every day when your customers use their BusyLight Indicator phones because they can help save one of the most important commodities - time!
ABP Tech is now a distributor of the kuando BusyLight product line! Reach out to learn more about the kuando BusyLight and how it can help your customers improve workplace efficiency.


Save the date for this upcoming 3CX Training in October.