You may have watched "The Graduate, 1967".This movie had the famous phrase..."Ben, I want to say one word to you: PLASTICS." Today, PLASTICS could be replaced with the word: WIRELESS.
The theme of this edition of ABP Tech's newsletter on Infrastructure is all about WIRELESS - Wireless solutions that make a difference for our Video Surveillance, WISP and MSP customers that have a need for high-end wireless solutions in special projects.

InfiNet Wireless Extended Point-to-Point Connectivity with a Fiber-Like Performance
InfiNet Wireless is introducing its new SDR (Software Defined Radio) wireless point-to-point product which optimizes spectral efficiency further than any solutions available in today's marketplace. This dramatically increases network performance, providing the highest spectral efficiency available in today's wireless marketplace - even when operating in high interference environments.

The Latest Generation of the Successful InfiLINK XG Product Family is Now Available
The fastest known Point-to-Point solution on the market, with a proceeding power of up to 1 million packets per second, the new InfiLINK XG 1000 builds on this reputation by doubling the capacity of the XG up to 1 Gbps over the air in the 5 MHz frequency band.


ABP Joined Antenna Manufacturer - ALGcom - at WISPAPALOOZA Las Vegas
The best radios should get the best antennas!
To get ABP Tech to even consider selling antennas was not easy. We know our radios are unique and they are IP devices, contain routers and can be Cloud managed and perfectly fit our world, but antennas?
Once we entered the world of high-end wireless and discovered the differences and nuances in radios, modulation, polarization and noise-filtering advantages of high-end antennas it all just fit! Today, we are very excited to sell an antenna that can revive your current radio or that will let our new performance radios blow all old radios out of the water! Which brings us to WISPAPALOOZA Vegas 2018 where we showed our new line of ALG antennas.
WISPAPALOOZA booth visitors were impressed by the excellent quality of ALGcom's products. One attendee shared how he deployed ALGcom antennas and noticed an increase on his backhaul performance, describing it a huge "win-win". Many other customers said they had experienced great success, as well.
ALGcom has been developing antennas for over 15 years with over 3,000 WISPs that have used these products to develop networks, proving that these antennas have been the perfect solution in cases with noise and gain problems.
ABP Tech is a U.S. distributor of ALGcom antennas. Contact ABP Tech to request a demo unit at a very reasonable price.


Introducing the New IPTechView™ / MxMSP™ - Ready PoE Switch
Many of you have already read about IPTechView™, ABP's new professional tool for Integrators and MSPs deploying IP Technology Solutions and end-points. The IPTechView RMM platform now controls our new line of industrial PoE switches. Partners can now remotely control and reboot all of their PoE devices with a single right-click.
The IPT-0802V1-POE is a ruggedized, Cloud-managed, gig-ethernet industrial switch with 8 POE ports and 2 SFP/GIG Ethernet ports. It can offer up to 120 Watts of PoE and up to 30 Watts per port of 802.11 AT.
The new unit is available immediately and has been used successfully for IP surveillance, Wireless Access Point and Point-to-Point Wireless bridges. A rack-mounted fanless 24 port unit will follow in early 2019.


Event Announcements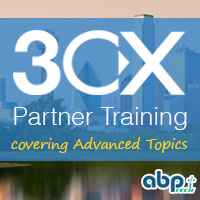 3CX Partner Training - now covering Advanced Topics
December 12-13, 2018 in Dallas, TX @ 8:30 AM - 5:00 PM CST
Join us for this 2-day 3CX Partner Training & Certification in Dallas, TX. This training is ideal for existing 3CX partners who are looking to take a deeper dive into the nuances of installing and managing 3CX systems, new updates in 3CX V15.5, and general SIP and VoIP building blocks which will help you prepare for the 3CX Certification exam. But the primary focus of the training will be geared toward helping you pass the Advanced 3CX certification exam and focus on most asked advanced topics.
We will also discuss basics on IPTechView™ EMS & RMM (Element Management & Remote Monitoring and Management) which is useful for all WISPs and MSPs!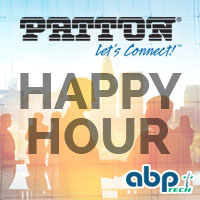 Patton "Let's Connect" Happy Hour
December 12, 2018 in Dallas, TX @ 5:30 - 6:30 PM CST
Join us at ABP Technology HQ in Dallas, TX for a Happy Hour and see the latest Patton solutions as well as meet the Patton team. Come for beer/wine, hors d'oeuvres, and a chance to win one of Patton's SN5301 cloud-ready device as well as meet Patton's Jennefer Staub.

Have questions? Contact your ABP Sales Rep for more details about these products by calling 972-831-1600 x3 or email sales@abptech.com